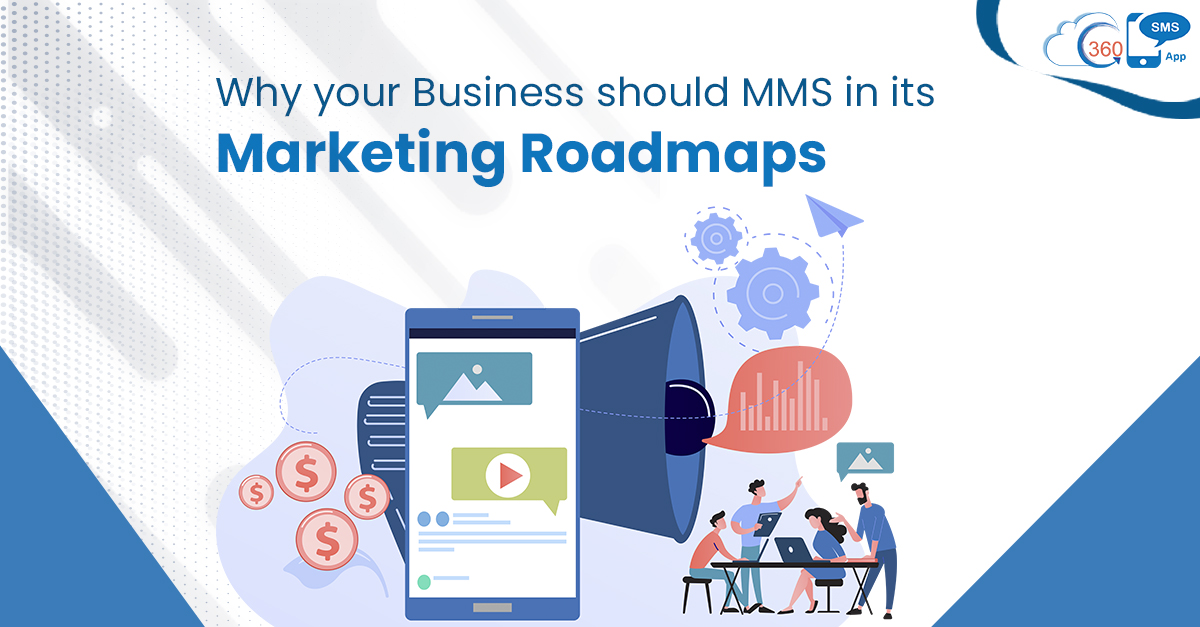 Why your business should use MMS for marketing roadmaps
Apart from rendering a richer mobile experience, images can be the best companion to grab prospects' attention within a fraction of seconds. In fact, MMS for marketing is processed by humans up to 600 times faster than traditional methods.  While conveying any message, a simple text message might fail to attract customers. But when a text message lands with an MMS, the possibilities are endless. 
It fosters better communication and helps you build relationships with customers by delivering more personalized content to them. MMS brings more versatility to text messages and gives you enough room to make your message more interesting.
It's not just enough. Let's dive a little deeper to understand why to opt for MMS to get a competitive edge and improve customers' experience.
Differentiate Your Brand From Others
Undoubtedly, the use of text messages as a business communication channel is on the rise. Every business is after SMS for quick and reliable communication. Thus, to get a competitive edge, it's necessary to deliver an impeccable customer experience that stays with customers. MMS can help you to do that effortlessly. Adding images, gifs, and videos with text can help stand out from the crowd by delivering what others don't and increasing your brand value by enhancing CX.
Target Prospects Anywhere, Anytime Uniquely
The professional and personal lives of people have drastically changed.  Long back, when peoples' official work was highly dependent on desktops and laptops, mobile phones were barely a cynosure. Besides, before digitalization, people were less indulged in mobile transactions and activities. But increased usage of mobile phones has compelled marketers to rethink their marketing strategies and avail of the ubiquity benefits of MMS.
Now, with MMS, marketers can target and reach audiences more impressively anywhere, anytime. Lower-end devices that don't support OTT texting platforms, tend to still support MMS. So, whether a prospect is traveling, working, or sitting in the comfort of their home, one can market their products irrespective of location.
Opt-ins are easy, DON't beat yourself up
One of the biggest advantages of incorporating MMS into business attracting opt-ins isn't too much work.
With text opt-in, marketers get a pre-set platform to deliver a rich-media experience to their prospects. Using bulk SMS along with MMS, one can tweak their advertising roadmaps and pass on information to a large volume of customers uniquely in just one go. 
Richer Communication Experience With What You Own
Using MMS, marketers do not need to spend a huge amount to increase their marketing returns. They can rely on what they already have i.e. SMS. There is no requirement for additional software, app, or accounts to avail of MMS advantages. One can do a lot by just pairing simple text messages with MMS. They can deliver a unique and personalized experience to each customer.
DISSEMINATE Information Uniquely EFFICIENTLY & Cost-Effectively
MMS comes as an additional tool with SMS that usually goes untouched when it comes to marketing. But SMS allied to MMS hold enough potential to shoot customer retention rate, improve customer support and servicing, and earn customers' loyalty.
Without burning a hole in the pocket, MMS enables marketers to share a richer story through images and without being bound by the character limits. In short, MMS renders an effective means to improve marketing campaign effectiveness in a cost-efficient way.
For more information on what 360 SMS can do for MMS-based operations, low-end devices, preview images, and promotional MMS, reach out to us at  info@360smsapp.com or contact us here.