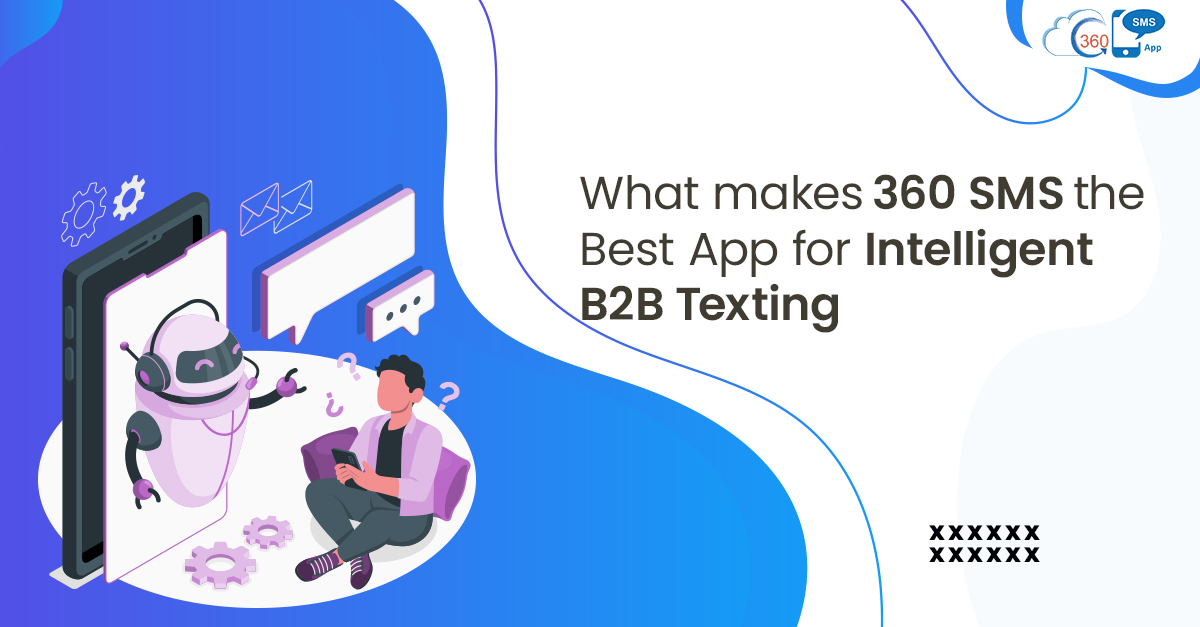 What Makes 360 SMS the Best App for Intelligent B2B Texting
Time is money in every business. So when it comes to B2B communication, it should be quick and convenient to shink the interaction session time between various business ventures like manufacturer and wholesaler, or a wholesaler and a retailer. 360 SMS is a no-code Salesforce-native texting solution that is equipped to distill weeks of work into hours and accelerate communication processes. Not only this, it empowers its users to perform much more beyond texting. So, let's look at what makes 360 SMS the appropriate solution for intelligent B2B texting.
360 SMS for Intelligent B2B Texting
Intelligent B2B Texting with
Self-designed Chatbots 
Best support service is the key for one business venture to build and nurture a long-term relationship with another business venture. So, one of the best ways to improve B2B relations is to narrow down the communication gap. When business ventures need any product or service, they prefer exploring various websites to find the one for them. 
Chatbots for live chatting provide the best way to chat then and there without heading to a mobile phone. Integration of chatbot with Salesforce can be a costly affair but not with 360 SMS. 360 SMS is the best SMS app for DIY configurable Chatbots as it supports no-code automation.  Users can design chatbots themselves depending on their use cases, which saves a lot of business investment.
Capture Data at Scale for Personalized Offers and Marketing
Every business is unique and has uniques requirements. B2B sales is not an easy task, especially when a business firm is new in the market. Also, business firms do not want to ruin their relationships with their old business partners. Thus, with 360 SMS, new firms can tap into no-code automation and design Surveys on their own to capture data at scale and understand their potential clients. 
With Surveys, they can probe their requirements, likes, dislikes, reasons, pricing, etc., to understand the pain points and personalize marketing. This way, businesses can run as many Surveys as they want with one-time investment, personalize proposals and offers and make informed decisions.
Use Automated text for Effective Marketing 
There are several reasons to use SMS Drip Campaigns in SMS operations. 360 SMS allows organizations to define a series of messages to interact with a potential client on their behalf. With 360 SMS, firms can schedule marketing texts deciding dates and times of messages to go out. They can keep on sending messages on different channels without intervening manually unless a prospective client replies. 
For example, the first message they can send through SMS adding information about a new product. Further, they can send the second message through WhatsApp adding a small video or image of the product. This could help market innovatively and generate more leads for business growth. 
Assist Business Partners in Making Timely Payments
Timely payment is the foundation of a long-term relationship between business partners. So, using the scheduling capabilities of Salesforce 360 SMS, firms can automate payment reminders deciding the frequency of reminders to go out weekly, monthly, or annually. This would help attract payments in time. Further, this helps to maintain cordial relationships with business partners by avoiding payment disputes in the future and ensure the smooth functioning of B2B processes.
Get into Multiple Conversations at Once and Generate More Leads for Your Business
Intelligent business interactions not only allow business personnel to cut back on manual interventions but saves plenty of time. With the help of 360 SMS, businesses can get into multiple interactions simultaneously using one-on-one conversation and automated texting. This would help business professionals communicate and fill lead pipelines faster. Also, they can eliminate dependency over developers to automate interaction, and connect with potential clients at the right time.
To know more about how 360 SMS intelligent texting can help your business vertical, get in touch with our experts at sales@360smsapp.com or contact us here.