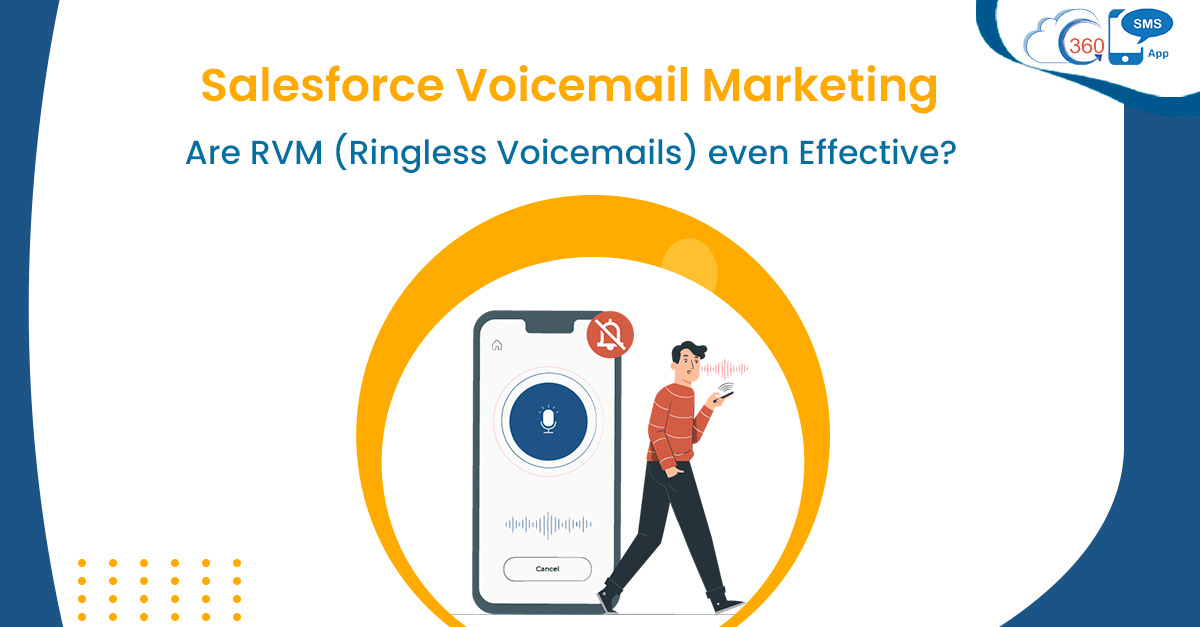 Salesforce Voicemail Marketing: Are RVM (Ringless Voicemails) even Effective?
A humanized conversation can make a world of difference in business interactions and marketing roadmap. But interaction over calls is not the only means to establish personal contact with audiences.
Instead, salesforce voicemail drops provide another way to add a human touch to conversations and strengthen relationships with customers without actually being present in person.
But when it is about salesforce voicemail messaging for communication or marketing, there's a most common concern that lingers on with marketers:
"Are RVM (Ringless Voicemails) even effective?"
Like any other communication channel, ringless salesforce voicemail drops come with unique advantages that no other channel brings.
Why Salesforce Voicemail Marketing is Effective?
Cost-effective
Marketing
Salesforce voice message marketing has a great potential for saving costs as there are no telephony charges associated with it.
Thus, marketers can improve their reach and connect with audiences at scale at an extremely low cost.
This saves a lot of investment of organizations and increases their potential to invest more in other high-value generating business areas.
Personalized Interactions in Minutes
For every interaction, business ventures can't rely on phone calls. This is because it needs an extensive workforce and drains more time.
Here, voice messages can help to automate interactions eliminating the need for calling each prospect personally.
Thus, you can use voice to text in Salesforce and broadcast voicemails to follow up with prospects and customers, send payment reminders, and greetings by sliding voicemails directly to their voicemail inbox.
All you need to do is record a voice message instantly or use a pre-built template to send a custom voice text depending on your use-cases. This way, you can tap into more personalized interactions and add value to your voice messages.
Better Brand Impression
The better a user experience is, the better impression it creates for a brand.
So, with ringless  Salesforce voicemail services, organizations can leave a better brand impression by conveying voice messages silently without creating any disturbance with intrusive rings.
Ringless voicemails appear in the form of a missed call notification and get stored in voicemails inbox, which adds to the effectiveness of voice messages.
On the contrary, call rings are intrusive, which may disturb audiences if they're in the middle of some vital task that creates a negative impression of your brand.
Improved Productivity of Employees
Interaction through voice messages is much more convenient compared to calls.
While making calls, agents need to dial numbers manually and wait for the other end recipient to receive a call.
This eats up a lot of the employee's time, but ringless voicemails from Salesforce eliminate the need for manual dialing and dependency on other end recipients.
Thus, employees can reach more prospects on a daily basis and broadcast information much faster. This could help to improve the overall productivity of employees and call-back rates.
How can Ringless Voicemails Maximize Returns for your Business?
When an employee calls a prospect to follow up, the person might be busy in a meeting or some event. Consequently, the phone call may go unanswered, and an agent may need to call repeatedly to connect with a person. This would obviously increase the workload for an agent. Also, the employee would not be able to make as many calls as expected in a day. 
Therefore, agents can pre-record various types of voice messages as per the different use-cases, departments, and roles. These can be used for quick conversations further. This would help to invest their time in core priority areas and maximize returns. To avail of the best ringless Salesforce voicemail for your business, you can count on the 360 SMS app. In addition to voicemails, it gets you five other channels for scalable interactions.
To know more about the potential of voicemails for your business, turn to our experts at care@360smsapp.com or contact us here.