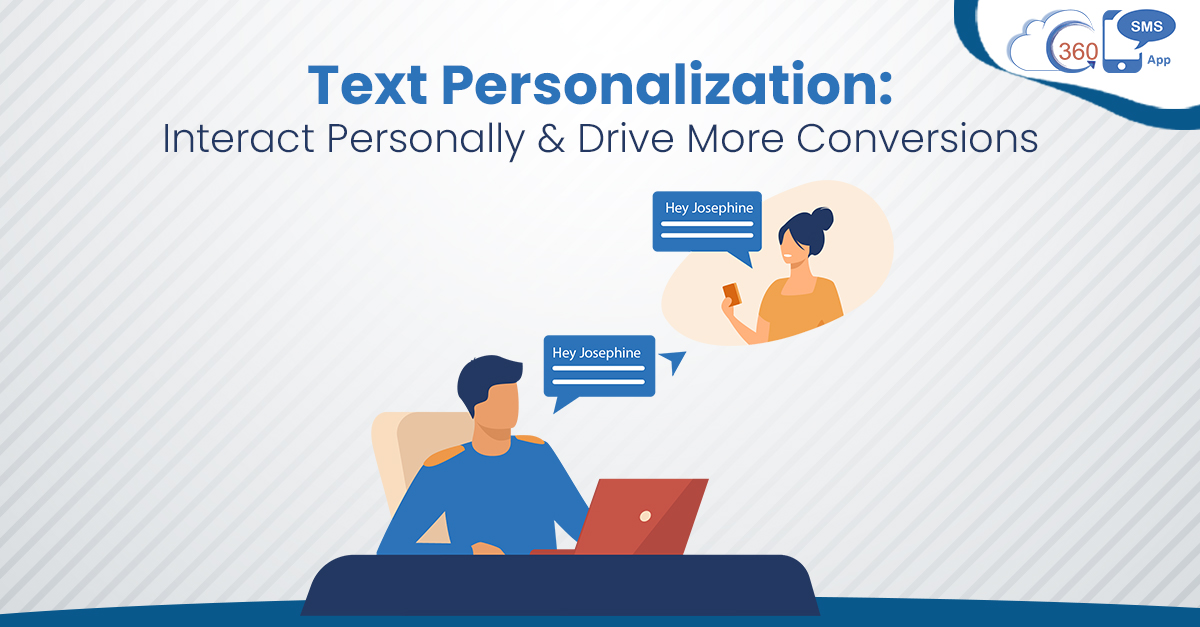 Text Personalization: Interact Personally & Drive More Conversions
Salesforce SMS gateway provides the most convenient and quickest way to connect with audiences. Further, personalized texts can help organizations take customer experiences to the next level making text messages more relevant, meaningful, and valuable.
A shot in the dark isn't the key to sure-shot successful text campaigns. But text personalization can help with more targeted marketing and deliver information that can add value to your prospects. Thus, it becomes easy to keep customers happy, improve engagement and drive conversions with personalized texting.
Let's find out how to personalize texts for customer-centric experiences and serve them better.
pre-built Messaging Templates for personalized texts
There could be many instances where organizations need to send one text message more than once. This includes greeting messages, festival wishes, or wishes on the customer's special days and life events. Here, pre-built text templates can save employees time and prevent them from typing the same messages repetitively. Employees can create templates for different departments, geography, age group, gender, occasions, discounts, offers, etc., and use them to send messages without investing much time at the time of need.
Further, agents can personalize these text templates by adding customized information like the customer's name, date, time, exclusive discount, favorite product, service, and much more, fetching the data from the database.
This way, it becomes easier to send personalized texts to millions without much manual typing work.
Text Personalization with Merge Fields
There are enormous ways in which organizations gather information from customers. There could be forms that prospects are filling up while signing up, surveys to understand customer's tastes and preferences, and much more. But it could be a waste if organizations don't use such information to personalize text messages. 
For instance,

Addressing customers with their names like "Hi Jack" is more meaningful than saying 'Hi Customer'. 
With the help of merge fields, it becomes effortless to customize text messages and pre-fill custom information before they're sent. While drafting any text message, you can leave fields blank which need to be filled with custom information. Thus, when a message would go out, it would automatically merge fields to pre-fill the required information.
Further, based on the customer's actions, you can send customized texts too.
For Instance:

If a customer has installed a food app to order a dish but stepped out of the app without ordering, a personalized text can help to drive conversion.
Here you can send an exclusive discount to your potential customers to bring them back to your app with the 360 SMS app, eliminating the need for separate bulk SMS API integration.
Personalize Communication on Various Channels with 360 SMS
Personalized texts not only help to improve engagement and conversions but also help to build trusting relationships through meaningful and relevant messages. Not only this, with 360 SMS, a Salesforce-native best SMS gateway, organizations are equipped to personalize communication using various other channels.
Business ventures do not need to integrate a separate Salesforce SMS API to send messages. They can install the 360 SMS app from AppExchange and start using it. They can schedule and send personalized voicemails or WhatsApp messages to communicate innovatively and improve customer brand experiences.
To know more about 360 SMS advanced capabilities, turn to us here.