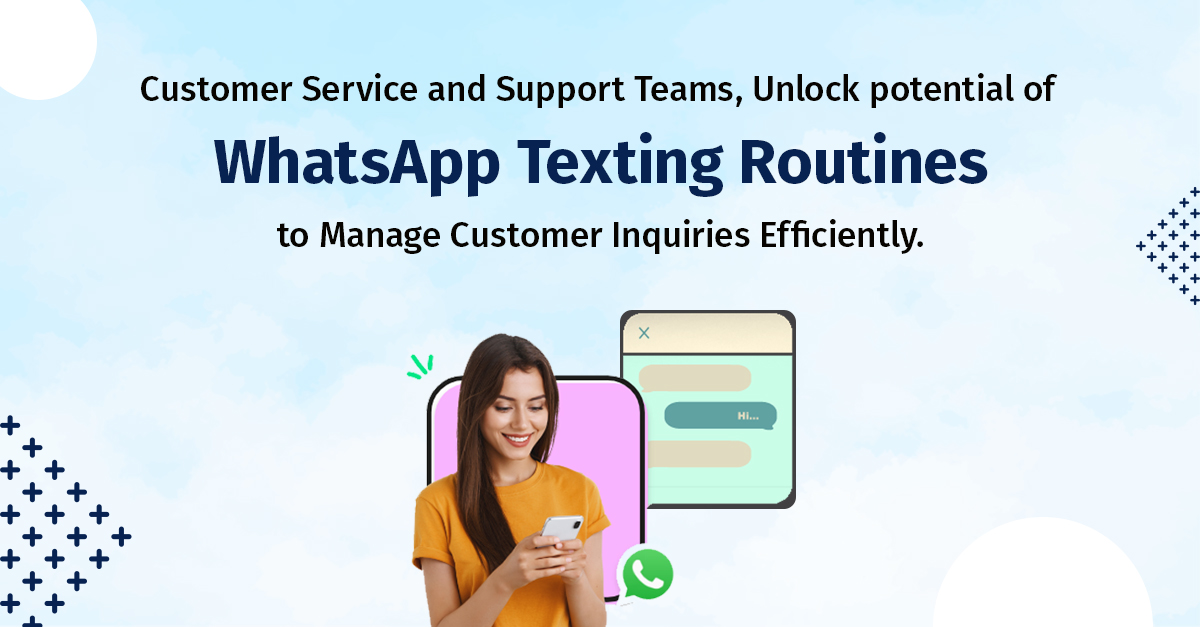 Customer Service and Support Teams, Unlock the Potential of WhatsApp Texting Routines to Manage Customer Inquiries Efficiently
Having WhatsApp for business communications does not ensure that you can make the best use of WhatsApp for business. Instead, it needs the right WhatsApp messaging routines and capabilities to carry on WhatsApp operations effectively. 
Therefore, while choosing Salesforce integration with WhatsApp, you must ensure to have different WhatsApp messaging routines to untap WhatsApp Salesforce potential.
This will help you pick the best-suited way to perform WhatsApp text operations constructively. 
When you're tied down to just one or two ways in Salesforce for using Whatsapp, it limits your capabilities for WhatsApp business communications. 
You are less creative with WhatsApp messaging operations and can engage in a limited way.
So, here are various types of WhatsApp Salesforce message routines you can expect from an ideal Salesforce integration with WhatsApp.
Messaging Routines You Should Expect from Your WhatsApp Integration with Salesforce for Effective Communication
Single and Bulk WhatsApp Messaging
While using WhatsApp for business Salesforce communications – single and bulk messaging are the two most common and frequently used methods.
Sometimes, you must send a WhatsApp message immediately in certain conditions or on a defined day or time. 
An example of a use case could be when customer service reps are unavailable, and you have to respond immediately to an incoming WhatsApp message or when they have to send time-sensitive recurring messages.
Besides, when you must convey the same business information at scale for marketing, selling, promoting business offerings, engaging with audiences, or educating them, you need scalable WhatsApp messaging to minimise time investment and effort.
This is where you need quick and scalable WhatsApp bulk messaging capability. You should be able to send WhatsApp messages without any restriction of choosing a limited number of audiences in one go.
WhatsApp Integration with Salesforce Supporting One-on-One Conversation
Another preferred mode of communication in business is one-on-one communication. Often, prospects and customers want to connect and engage with brands through one-on-one WhatsApp conversations for faster query resolution. 
According to Sanuker's report, 68% of customers consider WhatsApp as the easiest method to connect with a brand.
So, your Salesforce WhatsApp integration should allow you to communicate with audiences effectively using a convenient chatting interface. Therefore, you must be free to choose the communication channel based on the customer's requirement while communicating one-on-one. In addition, you should be able to accelerate one-on-one conversations over WhatsApp.
For example, the integration of chat GPT into 360 SMS suggests you reply while interacting one-on-one with audiences by learning from past conversations, which prevents you from mental gymnastic and typo errors while writing responses.
Single Window Console for Managing WhatsApp Conversations at Scale
When you run campaigns on WhatsApp, you have to segment your audiences or their responses to send the subsequent text based on their campaign replies.
All this can be time-consuming when you have to use multiple tabs to segment your audience's responses and send bulk messages. Therefore,  you should be able to filter audiences and their responses based on keywords and send a subsequent text without much navigation.
You should expect the productivity interface to perform most of your WhatsApp messaging operations using a single window console. With this type of productivity interface, you can converse faster and manage multiple conversations conveniently.
Multi-channel Drip Campaigns
One of the most important WhatsApp messaging operations is the WhatsApp campaign. While using Salesforce WhatsApp, you should be able to configure WhatsApp drip campaigns with point-and-click.
You should also be able to target audiences on other channels along with WhatsApp using a single drip campaign. This will help you witness a better response rate for your WhatsApp campaign, as you can target audiences on different channels. 
No-Code WhatsApp Chatbots
Chatbots have become essential to business operations to speed up their business operations. Enhancing customer services and delivering quality customer experiences is a cakewalk with Salesforce chatbots. 
According to the Userlike report, 68% of customers like interacting with Chatbots due to quick responses.
Therefore, DIY configurability for chatbots is worth looking at when choosing Salesforce WhatsApp integration. No matter which business process you want to accelerate, you can configure as many chatbots as you want without depending on experts and additional investments.
This is a crucial capability every business needs regarding WhatsApp to increase their efficiency and reduce business investments. 
Point-and-Click WhatsApp Surveys 
Surveys are the best tool to capture data at scale conveniently. Surveys allow you to capture essential data about your customers and competitors, which helps you understand your target audiences and competitors better. Armed with data about customer tastes and preferences, you can run more targeted campaigns.
Also, you can better strategize and improve your business offerings with competitor analysis. But if you have to invest every time you want to conduct a WhatsApp survey, this can place a financial strain.
However, Surveys are important for business, you should be able to create WhatsApp Surveys with point-and-click for easy and cost-effective data capture.
Get Multiple Texting Routines Choosing the Right WhatsApp Integration With Salesforce
When you have various options to use WhatsApp in different manners, you can be more innovative with your WhatsApp operations. This helps you drive more engagement from audiences over WhatsApp, and you can achieve your intended goals faster. You can count on WhatsApp Salesforce to interact with prospects and customers at scale, converse one-on-one,  engage with audiences without manual intervention, and manage WhatsApp campaigns better and faster. All these routines help you shrink WhatsApp operations time frame and make the most out of Salesforce Integration with WhatsApp. Want the same for your business or have any query regarding WhatsApp business, turn to our experts at care@360smsapp.com or click here to contact us.