1.1.1. How to enable WhatsApp business API for business messaging
The very first step to enable WhatsApp API is to create a Facebook page and get it validated by Facebook. The purpose of Facebook page validation is to get a green tick on the WhatsApp business profile as a green tick represents a verified WhatsApp business account. After validation, users have to submit a use case to WhatsApp stating the potential use of WhatsApp for various purposes. Also, users have to send the verified Facebook page with a new contact number that has never been used before for WhatsApp. In the next step, WhatsApp enables the WhatsApp business API, and users can use it for WhatsApp messaging.
1.1.1.1. How does 360 SMS help to enable WhatsApp Business API?
360 SMS takes care of everything on the user's behalf and the turnaround is 28 days. Users only need to create and submit a Facebook page and a new contact number to 360 SMS.
1.1.1.2. WhatsApp Notification Badge
All WhatsApp messages in the Chat window are marked separately with their own notification badge to distinguish messages from other channels. So, users can easily identify when a WhatsApp channel is used to send a specific message as shown below.

WhatsApp Notification Badge
1.1.1.3. How to select WhatsApp channel while Messaging
360 SMS allows users to select the WhatsApp channel from the Create Message page irrespective of whether a user is sending messages in bulk or a single text.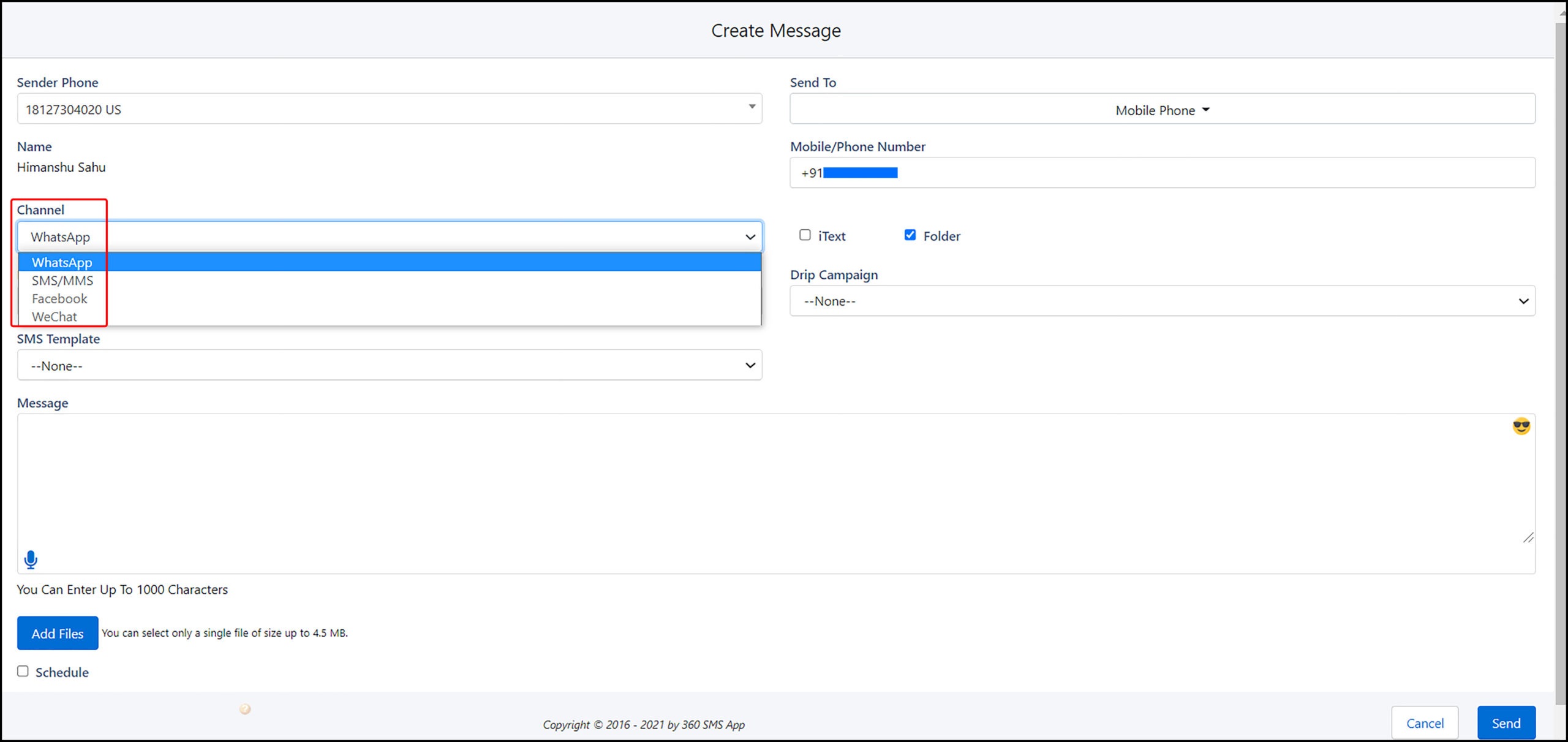 Channel tab on a message creation page while sending single or bulk messages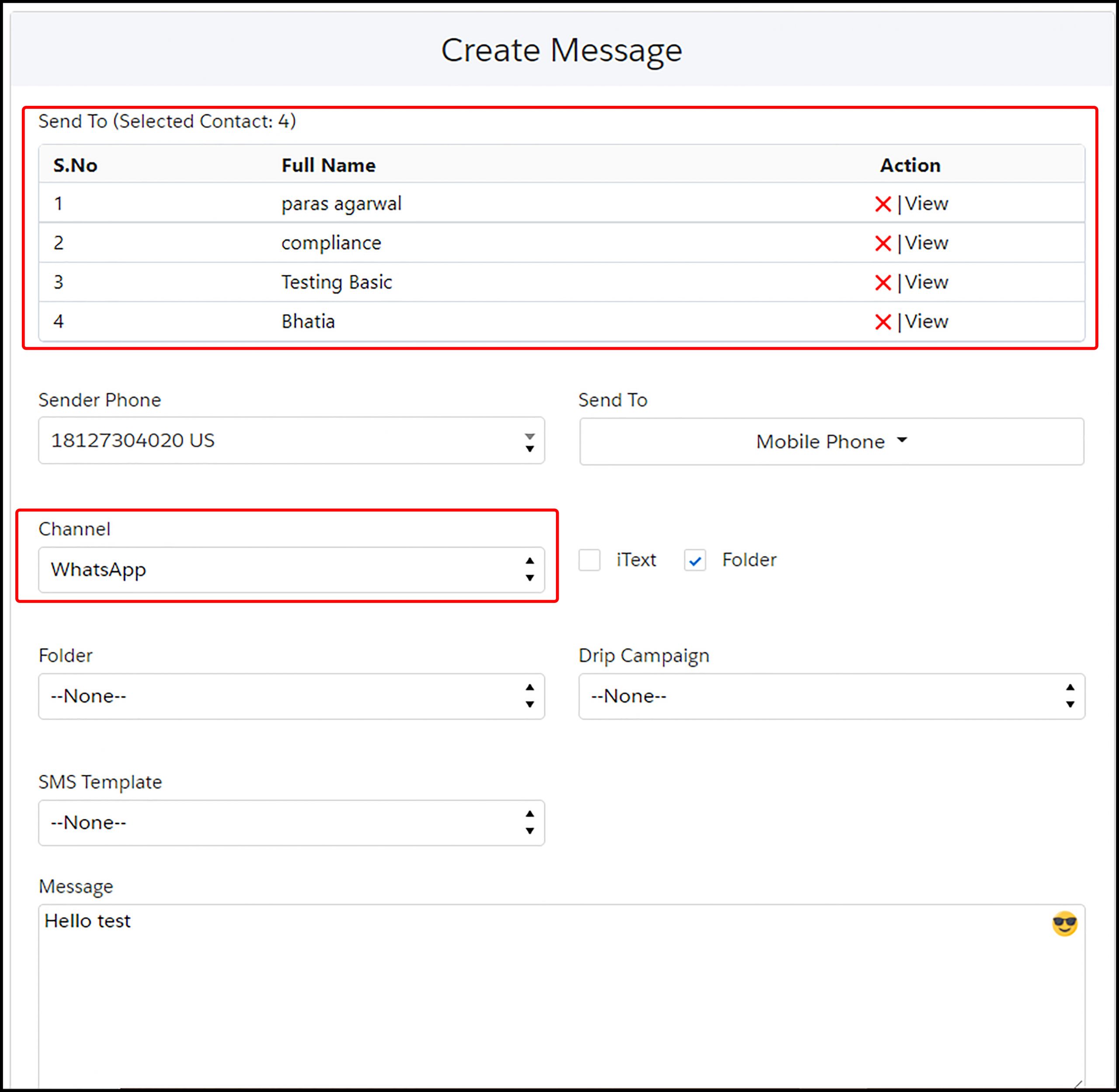 Channel tab while sending bulk SMS from Conversation Manager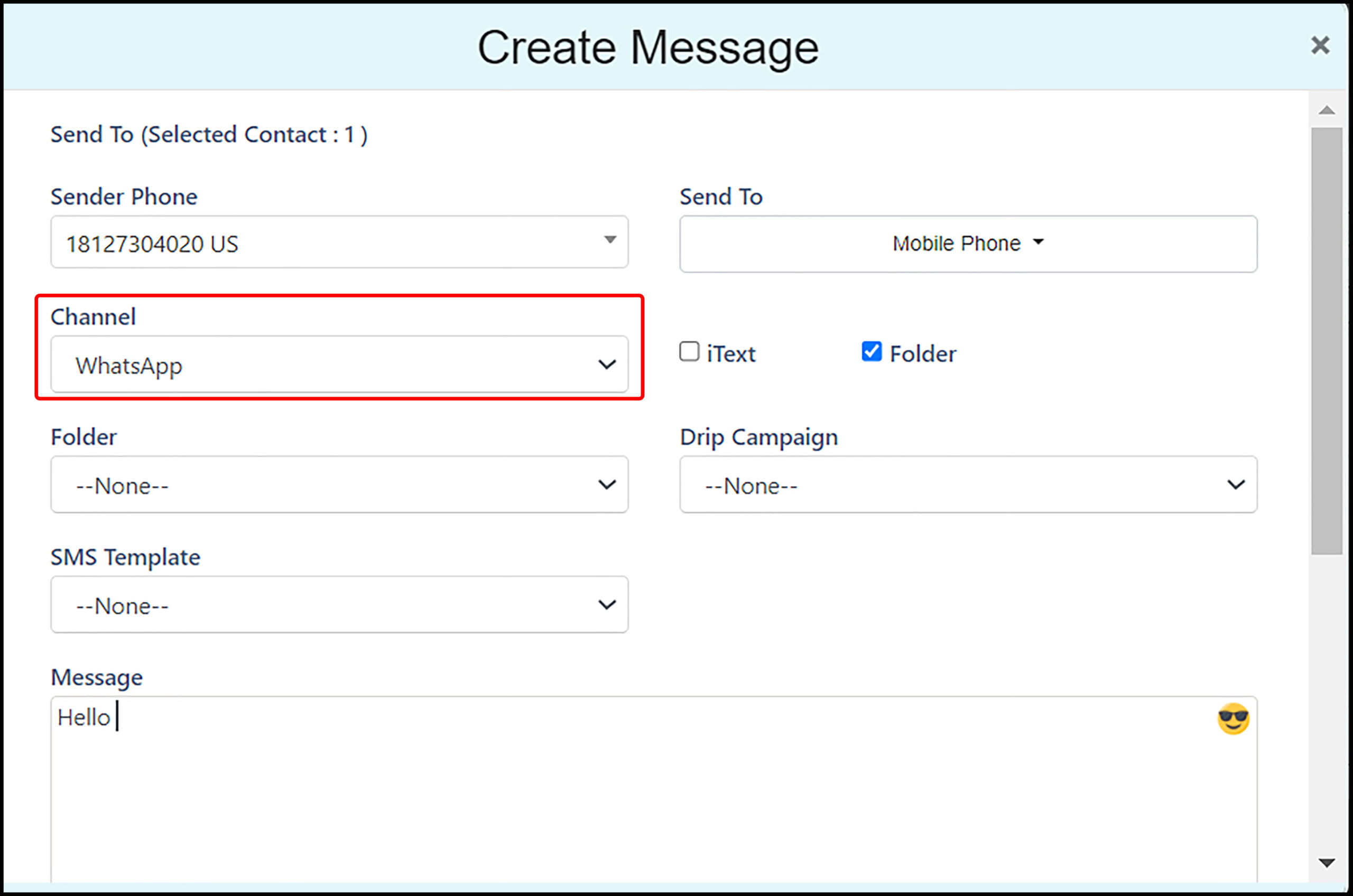 Channel tab on a message creation page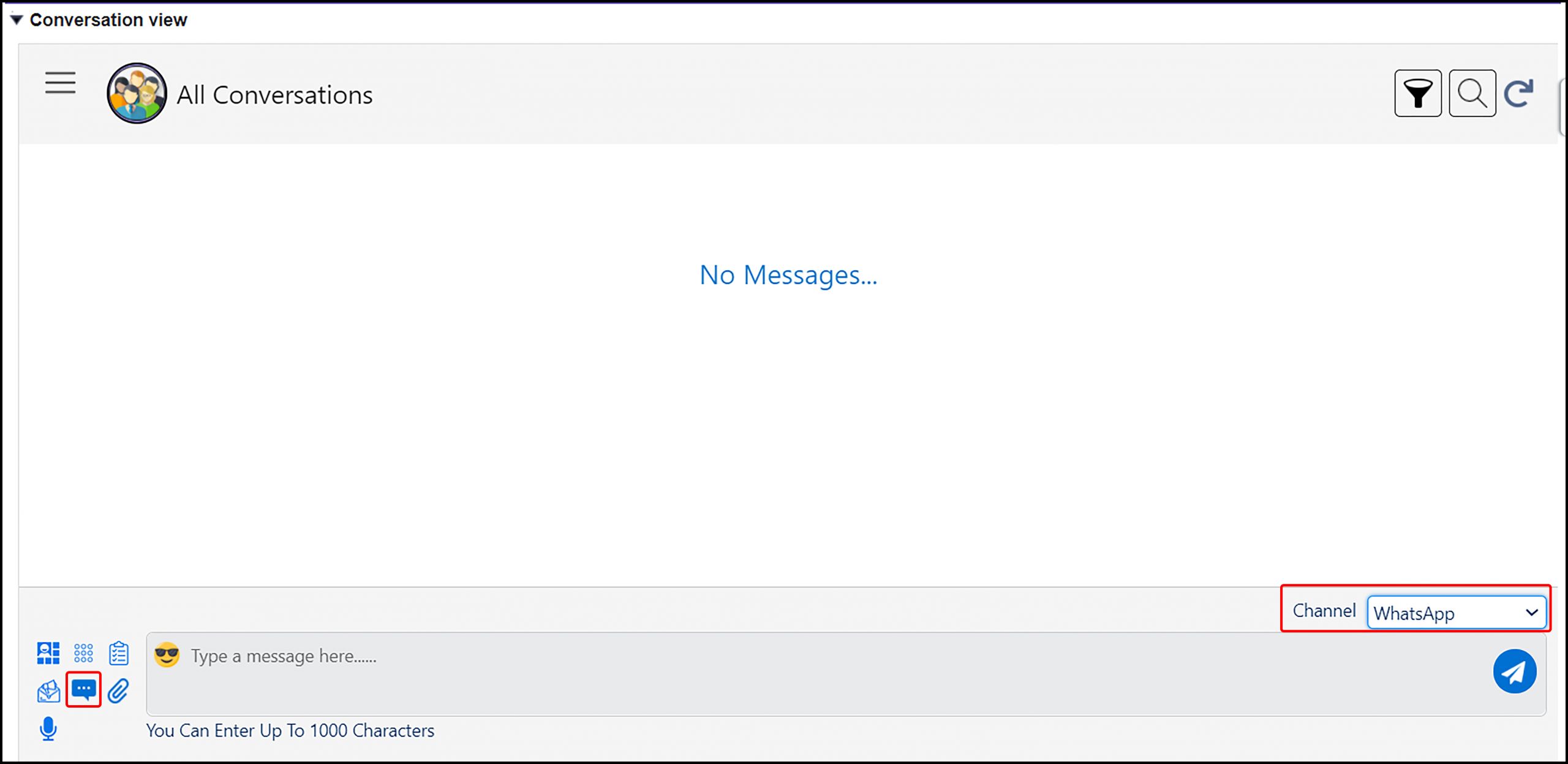 Channel tab in Conversation View
Channel tab while configuring action for each SMS in a drip campaign
Channel tab while sending bulk SMS from Conversation Manager
1.1.1.4. Limits on WhatsApp Multimedia
Users can send a single attachment of not more than 4.5 MB per message. Also, attachments need to be in one of the following popular formats:
Images:JPG, JPEG, PNG
Audio:MP3, OGG, AMR
Documents:PDF
Video:MP4
1.1.2. How many contact numbers can a user add to a single WhatsApp business account?
If a user wants to use the same WhatsApp business account in different countries, a user can get upto 25 numbers added to a WhatsApp business account.
1.1.2.1. What if a user wants more than 25 numbers?
WhatsApp assigns numbers based on entities. So, if there is more than one entity, a user can get 25 numbers assigned for each entity.
1.1.3. How does WhatsApp handle messaging compliance?
Users can only send pre-approved templates by WhatsApp to begin a conversation. Any unapproved message sent by a user will not get delivered to any recipient. Also, a chat session can be only initiated with customers if they provide their consent by replying to the first WhatsApp message sent. This way, WhatsApp manages compliance and prevents messages from being marked as spam.
1.1.3.1. What are WhatsApp templates?
WhatsApp templates are the first messages sent to any prospect or customer to start a conversation session. WhatsApp templates cost is a bit higher than WhatsApp session messages.
1.1.3.1.1. How many WhatsApp templates can a user get approved for one WhatsApp business account?
A user can get a maximum of 250 templates approved for one WhatsApp business account.
1.1.3.2. What is a chat session? 
Once a recipient replies to the first WhatsApp message, the chat session gets active, and users can send any text messages. These text messages are called session messages and cost less than the WhatsApp templates. Also, session messages do not need to be approved by WhatsApp.
1.1.3.2.1. For how long is a chat session active?
A session remains active for up to 24 hours. The 24-hours window starts after the last inbound message received from a prospect or a customer.
1.1.3.2.2. Can a user keep a chat session active for longer than 24 hours?
Yes, users can keep a chat session active for longer than 24 hours by sending an automated reminder to prospects and customers. So that when a customer replies to a text message reminder, a chat session can again get activated for another 24 hours.
1.2. Industries and countries barred from using WhatsApp 
WhatsApp doesn't allow WhatsApp messaging to all industries and countries. There are certain industries and countries that are barred from using WhatsApp for their business vertical which are as follows:
Business verticals
Alcohol

Adult content

Animal sales, including live animals, livestock, or any parts of animals

Currency

Dating

Digital subscription and digital content

Drugs or related products

Defense

Gambling

Tobacco

Weapons, ammunition, explosives
Countries
Crimea

Cuba

Iran

North Korea

Syria
1.3. Personal WhatsApp
Many times business owners want to use their personal WhatsApp for communication. The reason could be that:
This gives them ease of communicating with clients on their own time

They can communicate after business hours with customers having friendly relations with them 

Unlike Business WhatsApp, users do not need pre-approved WhatsApp templates to initiate conversations and they can have free-flowing conversations with clients. As clients themselves have agreed to converse over personal WhatsApp, this allows users to have free-flowing conversations.

They want to continue using their personal WhatsApp for the clients who are already interacting over their personal WhatsApp. 
Thus, users can use their personal WhatsApp on their desktops with the help of the chrome extension and also let any user access it remotely. So, businesses can onboard remote teams with our Chrome Extension as well.
Break Country-to-country Texting Barriers & Tap into Media-rich Communication
There are many countries where carriers do not support country-to-country texting barriers. So, WhatsApp paves the way to break such barriers and scale business outreach globally. More importantly, users can provide their customers the most convenient and familiar 'chat interface' to reach out to their business and acquire support services.