1.1.1. WHERE TO FIND SALESFORCE APPS TO EXTEND CAPABILITIES OF SALESFORCE CRM?
Salesforce in its bare-bones configuration may not be appropriate for certain business use-cases. So, to extend the capabilities of their Salesforce CRM, Salesforce users search for Salesforce apps for productivity, project management, documentation, marketing & sales, and text messaging. But newbies often struggle where they can find the right Salesforce app for their industry. If you're one of those users, you can navigate directly to AppExchange to get the best Salesforce apps and toolchains from ISVs in your industry.
1.1.2. WHAT IS APPEXCHANGE?
Just like Google and Apple have their own App Stores, Salesforce has AppExchange. AppExchange is a Salesforce marketplace where users can choose from thousands of solutions to extend their Salesforce capabilities. Also, businesses can use this platform to launch and monetize their Salesforce apps. Even Salesforce admins can count on AppExchange to find the right tool for their specific business use-cases.
1.1.2.1. FINDING SALESFORCE APPS ON APPEXCHANGE
Here is the procedure to find an app on AppExchange based on your vertical.
Visit https://appexchange.salesforce.com/
Use the Search AppExchange tab to search for a solution you are looking for. Alternatively, you can also filter your search by using tabs like Solution by Type, Product Collection, and Industry Collection as shown in the figure below.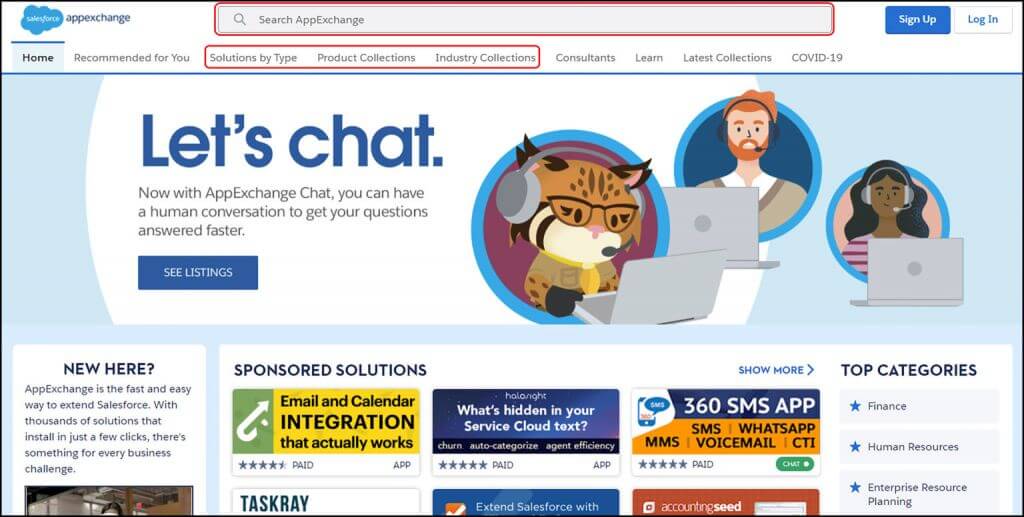 1.1.2.3. CHOOSING THE BEST APP ON APPEXCHANGE
Facing thousands of apps together on AppExchange can be overwhelming and make it difficult for users to identify which app is the one for them. As a user, you may want to narrow down your search based on certain parameters, you can find details for all these parameters displayed on App listings. These are as follows.
1.1.2.3.1. PRICING
A user can check an app's pricing and find out whether an app is free or paid. This would help users understand whether they have to pay to get the desired app or if it is accessible free of cost.
Users can look for pricing at the beginning of the app listing page on AppExchange as shown.
Pricing in App Listing on AppExchange
1.1.2.3.2. LATEST RELEASE
Salesforce AppExchange products come in managed and unmanaged packages.
So, apps that are upgradable come in managed packages, and apps that are not upgradable come in unmanaged packages.
The date of the app's latest release is also a parameter worth checking. This lets you know if an app comes in a managed or unmanaged package and also how frequently the app is updated. This lets you find out apps that were updated quite a while back and are not actively improved. On the contrary, the apps that are frequently upgraded can be expected to improve regularly and users can expect improved versions and better performance.
Users can check the latest release date at the beginning of the app listing on AppExchange.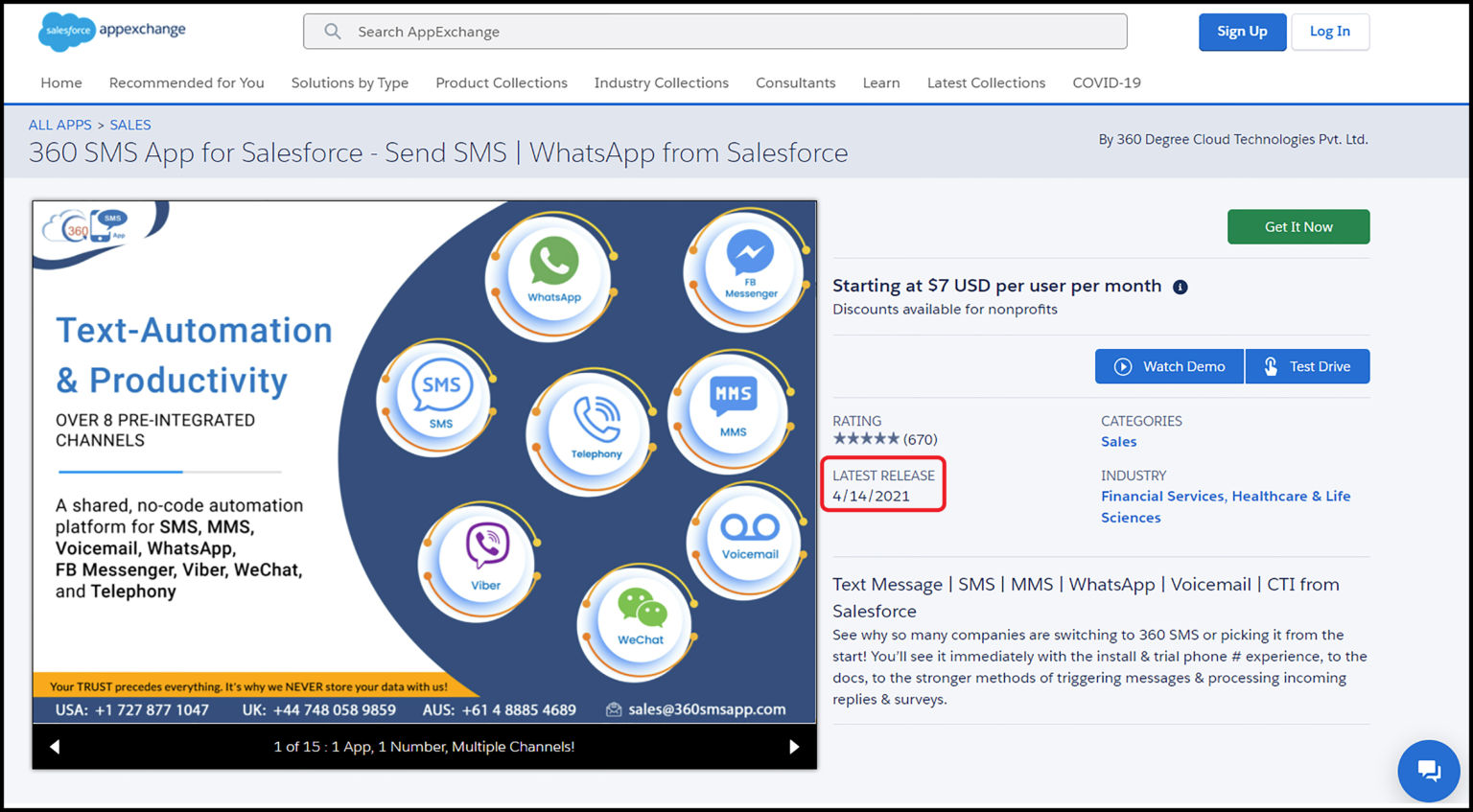 Latest Release date in App Listing on AppExchange
1.1.2.3.3. DESCRIPTION
The description section of the app listing gives users an overview of the app. This helps users to understand what they're getting and whether or not an app can fit their requirements.
Users can scroll down and read the description of an app on the AppExchange listing.

Description in App Listing on AppExchange
1.1.2.3.4. RATINGS & REVIEWS
AppExchange ratings and customer reviews play a vital role in singling out the best app. App users rate an app on AppExchange based on their experiences. This is useful for potential users that wish to know about the experiences of previous customers. This can tell you a lot about the app's features and the support team. The more ratings the better. A rating close to 5 stars on Appexchange is considered ideal.
Users can scroll down on the AppExchange listing to read reviews from users.

Reviews in App Listing on AppExchange
1.1.2.3.5. DATE OF APP LISTING
Users can also check when an app was listed on AppExchange to find out how old an app is. An app surviving longer in the marketplace with good reviews indicates consistent performance, improvements, and customer support over time. On the flipside, newly launched apps are less trusted by potential users as they are unsure of their performance and long-term support.
Users can check the launch date of an app at the bottom of the app listing page on AppExchange.
Launch date in App Listing on AppExchange
1.1.2.4. WHAT IS THE SIGNIFICANCE OF THE GET IT NOW, WATCH DEMO, AND TEST DRIVE OPTIONS IN AN APPEXCHANGE LISTING?
When a user clicks on an app listing or the app listing for 360 SMS, they can choose from one of three actions to proceed further:
1.1.2.4.1. Get It now
This option allows users to install the app straightaway.
1.1.2.4.2. Watch demo
Clicking Watch Demo or Test Drive will prompt users to enter their details for demonstration or a test drive of an app as shown below.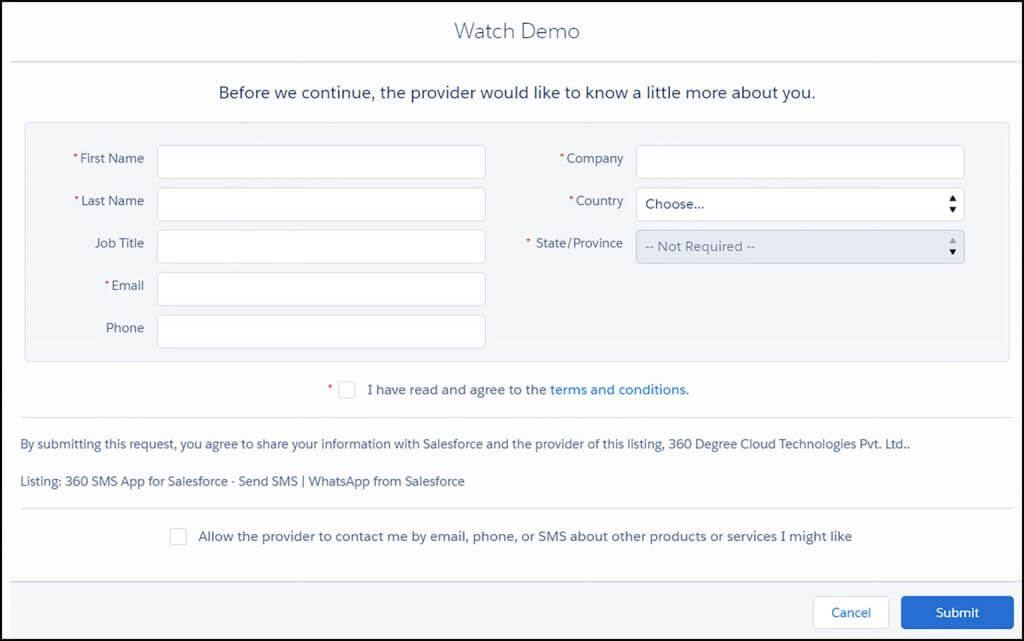 After filling in all these details, one has to click the checkbox and then click Submit. After this, they're all set to watch a demonstration of an app or go for a test drive.
1.1.2.4.3. Test Drive
Similar to how a buyer may take a car for a test drive, AppExchange lets Salesforce users take out apps for a test drive. This helps them to understand how an app performs and works before they commit to making a purchase decision.
1.1.3. COUNT ON APPEXCHANGE & GET THE RIGHT APP FOR YOUR BUSINESS
AppExchange has not only paved the way for businesses to launch and monetize their apps but made it easy for users to find and integrate the right app with their CRM to solve their unique business challenges. Users can count on leading enterprise cloud marketplace, i.e., AppExchange to acquire the best ready-to-install apps, components, consultants, and solutions to enhance their Salesforce CRM capabilities and streamline their business processes.