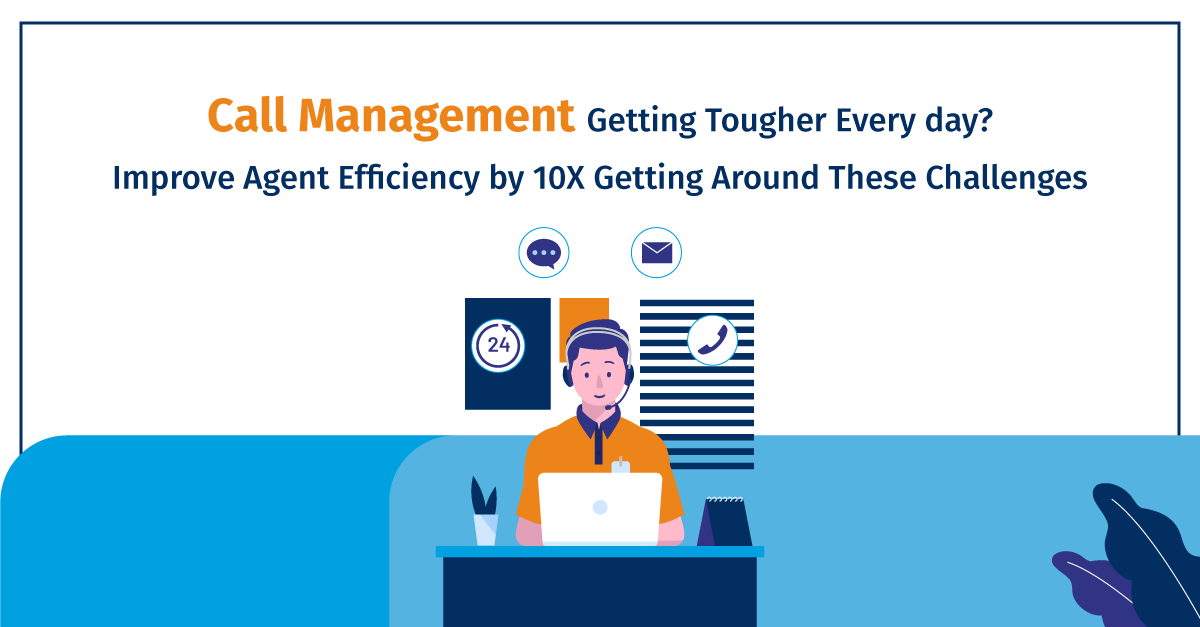 Call Management Getting Tougher Every Day?
Improve Agent Efficiency by 10X Getting Around These Challenges
Having the right solutions is vital when looking forward to managing your business communications well. 
But before that, you need to understand what kind of solution would fit the bill depending on your business requirement.
If you are one of those Salesforce users who witness a large volume of incoming calls in their business and cannot manage call conversations, sticking to traditional telephones won't help.
According to Salesforce's report for 2022, 59% of people prefer using calls to interact with a brand.
You need a correct Salesforce telephony integration that can help you get around challenges that come up while handling calls.
Ineffective call handling is one of the biggest reasons for missed opportunities and poor brand reputation. 
And a good number of business leads and a good brand reputation are a few aspects that matter to every business, which is impossible without managing calls effectively.
So it is extremely important for businesses to focus on weeding out every factor that ruins a caller's experience with a brand.
In this article, we'll learn about you can overcome various challenges by choosing the correct Salesforce telephony integration.
Getting Around Various Challenges with Salesforce CTI
Inefficiency in Customer Service Due to Lack of Salesforce CTI 
To ensure that agents have more time to handle more calls efficiently, it is necessary to eliminate every factor that extends call handling time. 
While handling calls, your first step should be eliminating manual processes wherever possible.
And one of the processes is manual call routing. 
Without CTI, calls may need to be manually routed to the correct agent or department, which can lead to delays and mistakes.
Further, inaccessibility to customer data while handling calls refrains customer service agents from personalizing conversations and leads to ineffective call handling.
Salesforce telephony integration allows customer service agents to use a computer to access customer information in Salesforce while on a call with them. 
This can include information such as the customer's purchase history, contact information, and previous customer service interactions. 
This allows agents to quickly and efficiently assist customers with all the necessary information at their fingertips.
Lack of Customer Information while Managing Calls
Without knowing who the caller is, it's tough to personalize interactions and provide effective customer service. 
CTI telephony integration in Salesforce makes it easier for you to tap into personalized and more meaningful customer interactions.  
Whenever there is an incoming call, The relevant customer information automatically pops up on the screen. With all the customer information right in front of the eyes, such as purchase history, previous customer service interactions, contact information, etc., it becomes easier for agents to personalize interactions and handle calls efficiently.
CTI in Salesforce helps agents with real-time access to customer information. Thus, agents do not stay clueless while handling customers on calls.
Difficulty in Managing Large Call Volume 
Managing a large volume of calls efficiently is possible only when you have adequate capabilities to distribute and manage calls without letting your customers wait on hold or on call.
With CTI integration in Salesforce, you can get numerous features that help you reduce caller's wait time and handle calls best. This includes:
CTI can automatically route calls to the appropriate agent based on factors such as skill level, language preference, and availability. This can help ensure that the most qualified agent handles calls and reduce customer wait times.
When all agents are busy, CTI can put incoming calls in a queue and then direct the next call to an available agent. This feature helps ensure all calls are answered promptly and prevents customers from hanging up because of long wait times.
Call Monitoring and Recording
Agents learn better with real-world telephonic conversations. For this, recorded calls are required. With CTI integration in Salesforce, users can monitor calls and record calls automatically. Using these features, they can improve their agent's training quality and customer handling. 
Interactive Voice Response (IVR)
When callers have self-help options, they can serve themselves. By integrating CTI, you can set up an IVR that allows your customers to interact with voice responses,  As a result, you get fewer calls from customers, and customers do not have to wait longer in call queues to connect with agents.
Real-time Reporting with Salesforce CTI
Integrating CTI in Salesforce allows you to get real-time reporting on call volume, duration, and agent performance. This can help managers identify trends and adjust to improve efficiency and reduce call volume.
Overall, CTI can help manage large call volumes by automating processes, providing tools to assist agents, and providing real-time reporting on call volume and agent performance.
The best thing you can do to get CTI in Salesforce is to opt for an app for Salesforce SMS integration that supports CTI. This could be a cost-efficient move to cut back on investments.
Longer Wait Times 
Customers waiting on hold for so long usually get frustrated, which leads to negative brand experiences. 
According to a Survey by Replicant's 2021, 44% of people have felt irritated and annoyed when kept on hold for 5-15 minutes.
So, no matter what, it is essential to ensure that callers do not have to wait even when agents are busy attending to other customers.
Integrating CTI in Salesforce, there are many ways you can easily do that. By routing calls smartly, you can route calls to the best-suited and available agent so that callers do not have to wait so long.
Call termination after a defined time also reduces the caller's wait time when agents are busy or unavailable. 
Using advanced capabilities that CTI Salesforce provides, you can set call termination limits ranging between 5 to 60 seconds, preventing customers that are waiting with a view of connecting with an agent.
High Costs Associated with Communication and Call Operations 
CTI can help businesses to reduce costs by automating repetitive tasks and streamlining communication processes.
Routing calls to the appropriate agent based on skill level, language preference, and availability helps ensure that the most qualified agent handles calls. This improves first-call resolution and reduces wait times for customers, which can lead to fewer calls and reduce operational costs. You can also use features like CTI call forwarding and conferencing to improve first-call resolution.  
For high-quality customer service, agents should be well-trained to manage calls best so that callers do not have to call repeatedly. With call monitoring and recording, you can monitor and record calls for quality assurance and training purposes, which reduces calls in the queue and the need for resources.
Besides, you can configure Interactive Voice Response (IVR) to allow customers to self-serve by providing information or addressing common issues. This reduces the need for more resources to handle calls, reducing operational costs. 
Perform Next level Call Operations with Salesforce CTI
Salesforce telephony integration is a valuable tool for businesses as it integrates telephone and computer systems in Salesforce. This improves efficiency and productivity, allowing for features like click-to-dial, automated call routing, and automatic call logging. These features save time and enhance customer service. Additionally, CTI integration provides valuable data and analytics on calls, which help businesses make informed decisions and operate more effectively. Overall, CTI integration is reliable for businesses looking to streamline their communication processes, reduce costs, and better serve their customers.
To dive deeper into CTI capabilities and its potential for your business, get in touch with our experts at care@360smsapp.com or click here to contact us.