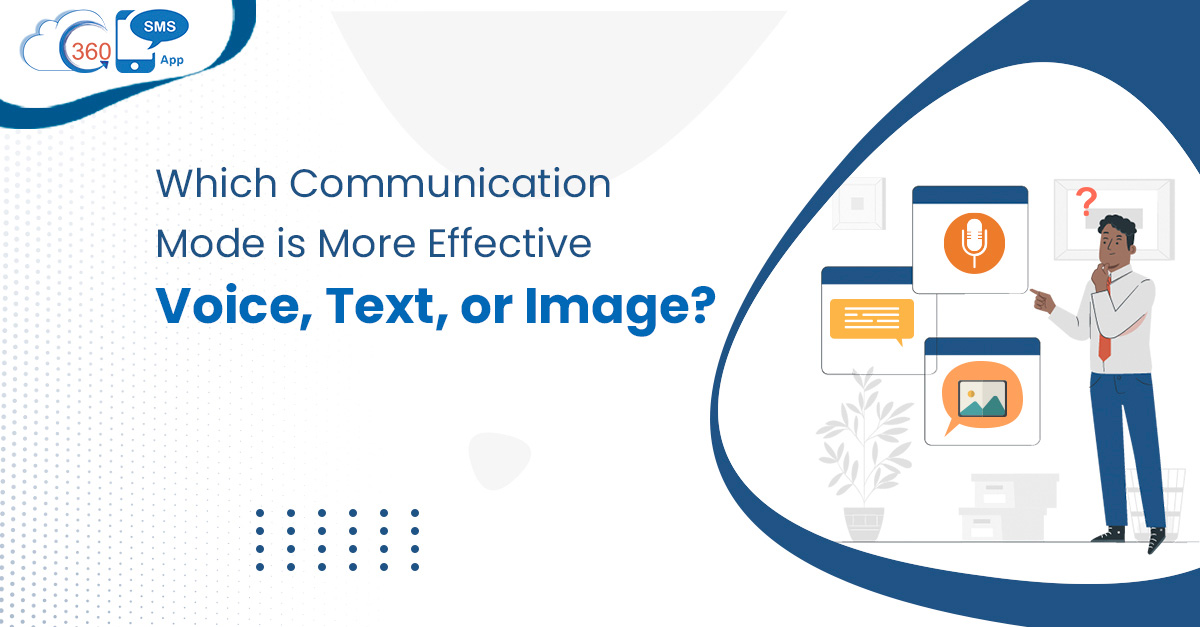 Which Communication Mode is More Effective: Voice, Text, or Image? 
In the all-digital world, where multi-channel targeting has become one of the critical business priorities, reliance on a mere one interaction channel can kick any organization out of the competition. Further, it could limit its reach to a massive customer base and capabilities to target them. Thus, businesses look for an effective communication channel for better results.
With numerous marketing channels like voice messages, texts, and images for communication, organizations can head to more effective and personalized marketing. But the availability of multiple interaction channels acquaints users with the most challenging part while choosing a communication channel-
"Which channel to use-Voice, Text, or Image?"
Let's have a comparative analysis of these three to understand their significance in the business environment.
Comparative Analysis to get an Effective Communication channel: Texts vs Voice vs Image
Clarity of Information
Text messages provide you the feasibility to convey information or communicate with audiences precisely rather than leaving them with guesswork like in the case of images. Readers have complete clarity in the information they read.
On the other hand, images sometimes leave viewers with guesswork as they may or may not be understandable by them. Image communication doesn't always convey information clearly and could be misinterpreted by their viewers.
Further, if we talk about voice messages, they also convey messages clearly like texts. But if a user missed hearing even a single word, the voice message could lose its impact, and listeners might have to listen to it back, which could drain the listener's time.
Investment of Manual Efforts and Time
The creation of text messages and images involves a lot of typing and designing work. This could extend the overall timeframe of the communication process. But that's not the case with voice messages. Users can create voice messages and templates using their own voice and steer clear of typing work which is much time-savvy compared to texts and images.
Visual Appeal in Messages
When it comes to visual appeal, undoubtedly, MMS communication has the upper hand. SMSes and Voice messages lack visual appeal and may fail to catch the immediate attention of the users. But communication through MMS has the potential to grab the eyeballs. The fact is
"Our brain processes visual content 60,000 times faster than text. "
As a result, organizations can communicate with audiences more effectively through visuals.
Notification Rings 
For a non-disturbing communication channel, ringless voicemail is the best pick to convey information silently. Voicemail notification appears in the form of a missed call on the user's phone screen. Voicemails get stored in the voicemail inbox and are accessible by their receivers when they're free from their busy work. On the other hand, SMS and MMS notifications could disturb business personnel when they are in the middle of a meeting or any other task.
Which One is Better?
There are various communication channels, and each of them comes with unique benefits. So, the acquisition of all three channels for communication could help businesses diversify the communication process. On the one hand, you could use automated voice messages to greet or wish customers on their special days and life events by adding a human element. On the other hand, the combination of SMS and MMS makes more sense and allows you to make conversations more impactful and memorable. This is because people remember around 80% of what they see compared to just 20% of what they read. Thus, when it comes to an effective communication channel, each of them works in its own way.
360 SMS for Cost-Efficient Multi-Channel Support
360 SMS on AppExchange is one such app that not only gets you all three mentioned channels for communication but brings to you other three important channels. These are CTI, WhatsApp, and Facebook Messenger at no extra cost. Thus, users can effectively provide multi-channel support to their users, enhance their experience, connect with them where they already are, redefine their communication process, and acquire more customers to close more deals.
To know more about what multiple channels can do for your business, reach out to us at  info@360smsapp.com or contact us here.