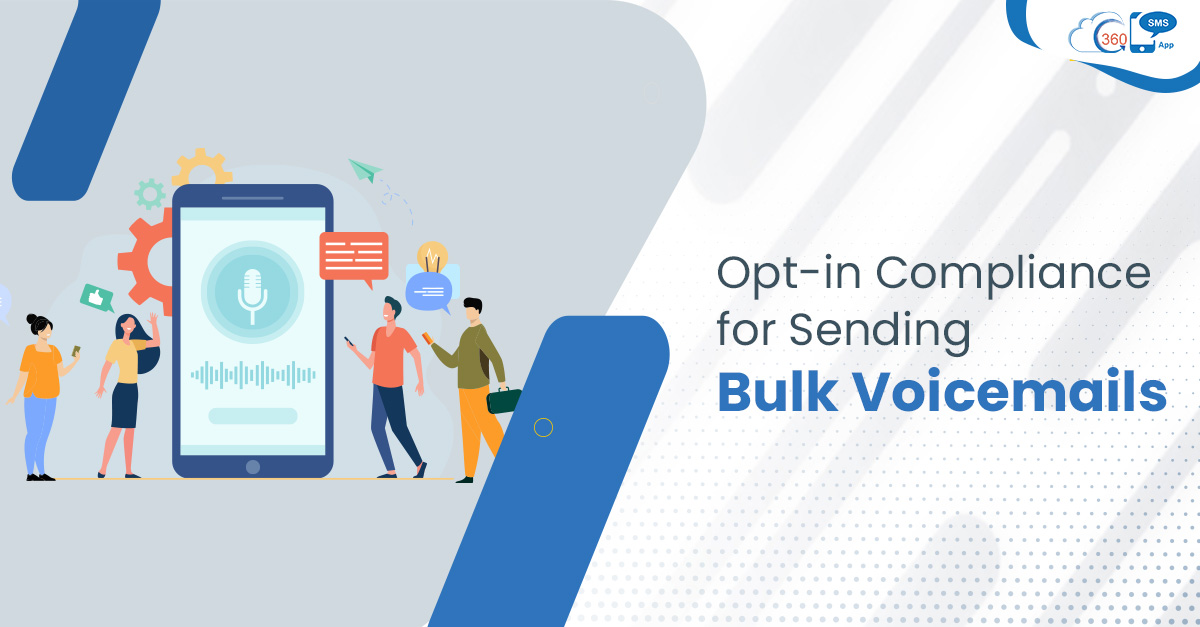 Opt-in Compliance for Sending Bulk Voicemails
The consumer is the king of the market. So, their privacy and interest matter the most to any business. This is why compliance is worth considering before sending messages to communicate with target audiences. Other than SMS, compliant messaging extends to voice messages also. Considering voicemail compliance, business ventures can save themselves from heavy losses and avoid disputes in the future.
Opt-in Voicemail Compliance for Bulk Voice Messages
Voicemail Compliance:
Obtain Written consent 
Undoubtedly, voice notes can be used to enrich customer experiences at various turns. But can pose problems too if used in a non-compliant way.
Just as text messages, business firms need to acquire the customer's consent to send pre-recorded or instantly recorded voice messages. Even having "prior express consent" doesn't make bulk voice messaging compliant. Organizations need to acquire "prior express written consent" from customers. 
Business ventures can count on online or physical forms, keyword opt-in, email responses, or other methods to obtain consent from customers. More importantly, provide an easy and clear option to opt-out for compliant voice messaging.
Mention Purpose of Sending Voicemails Explicitly
When customers opt-in to receive Salesforce voice messages, they must be explicitly aware of the purpose for which voice messages will be used and sent to the customer. Misleading customers and sending voicemails that are not relevant to the stated purpose can be one instance of violating voicemail rules and lead to high penalties. 
So, be honest and mention the purpose or potential use of voicemails whether it's marketing, promotion, updates, or any other.
Provide a Clear opt-out Option
Just as written consent, when customers subscribe, a clear opt-out option is also crucial. So, when organizations provide the opt-in option, they must ensure that customers can opt-out anytime if they wish to. 
This would instill confidence in subscribers and help them understand they are not bound to receive voicemails in the future once they subscribe. So, not only for voicemails, organizations can stay compliant with TCPA rules and regulations for SMS also this way.
Add a Valid Phone Number in Voice Messages
Another voicemail compliance that firms should keep in mind while sending bulk voicemails is to add a valid phone number. The purpose of adding a phone number in the voicemails is to provide a way for recipients to return the call and process the opt-out request. 
This would help recipients opt-out anytime or whenever they access their voicemail inbox, without waiting to receive the next voicemail.
Keep Voicemail Frequency to Minimal and Reduce Opt-outs
Voicemail compliance intends to protect the privacy and interests of the recipients and prevent them from receiving unwanted voicemails. By being compliant with voicemail rules and regulations, organizations can prevent themselves from heavy penalties and connect with recipients without violating any laws. 
Just because customers have consented to receive voice messages, it doesn't mean to bombard voicemails heavily. Try not to send more than 3 voice messages in a month. Else, it could lead to a massive opt-out by customers.
Without a doubt, voice messages are competent enough to cut back on typing work and speed up communications processes. To know more about its capabilities and 360 SMS can help manage opt-ins for voicemails, get in touch with our experts at sales@360smsapp.com or contact us here.