WhatsApp Integration with Salesforce Marketing Cloud
Without a doubt, Salesforce Marketing Cloud is a robust Salesforce platform for marketing. The marketing cloud has really made the marketer's lives easier by providing a 360-degree view of customers' data for planning more targeted multi-channel marketing campaigns and delivering personalized journeys across different channels and devices. 
But what about the time you invest composing messages, building journeys, and automating messages and the high messaging costs that you spend while messaging through Marketing Cloud mobile studio?
This is where the 360 SMS Marketing Cloud add-on comes into play.
The way you handle marketing operations with the Marketing cloud is much simpler and cheaper with this connector. 
Apart from composing messages faster, you can reduce messaging expenses, which are extremely high, with the Marketing Cloud mobile studio. More importantly, you get the ultimate WhatsApp Salesforce integration with Marketing Cloud.
Managing communications with the Marketing Cloud 
While using Marketing Cloud, you might have found yourself in a situation where you have to depend on developers and Process builders, which leads to marketing bottlenecks. You need to build automation and depend on Tasks to send each text message. This further stretches the timeframe of your marketing pursuits.
Even in the Journey Builder, you should create cumbersome tasks, and this drains plenty of your time.
Besides, have you ever felt your credits are getting exhausted faster?
It might be because it takes 40 'super messages' to send a text message from Salesforce Marketing Cloud Mobile Studio. This shoots up your Marketing Cloud messaging expenses and reflects in your SMS bill.
Apart from this, you need to integrate WhatsApp separately if you're looking forward to Salesforce WhatsApp messaging from Marketing Cloud.
Managing Communications with the 360 SMS Marketing Cloud Add-on
360 SMS Marketing Cloud connector helps make marketer's lives easier, reducing marketing bottlenecks, adding convenience, and saving time.
Besides, it allows you to gain insights into actionable data from Marketing Cloud in the  Salesforce.
You can import and reuse marketing data from any data source for designing more targeted and well-planned mobile-first campaigns.
How does this Add-on Help Saving Time?
The 360 SMS Marketing Cloud empowers you with an out-of-the-box message composer, which lets you schedule texts and create multi-step journeys much faster, even in minutes.
For faster message composition, it allows you to import and edit message templates. Consequently, you can personalize messages using 'Merge fields' for any custom field values.
With this connector, you can bring powerful drag-and-drop capabilities into the Marketing Cloud. Thus, you can eliminate dependency on developers and Tasks for scheduling and sending messages, saving time.
The best part is you can even send WhatsApp messages along with SMS in the email journey.
How does this Add-on Help Reducing Marketing Expenses?
Text messaging from the Salesforce Marketing Cloud Mobile Studio is quite expensive as you pay for 40 SMS when you send one text message.
With this add-on, you can send Whatsapp messages and SMS at a regular price making Marketing Cloud messaging 670 times cheaper.
How to Create a Journey Faster with Journey Builder using the 360 SMS Marketing Cloud Add-On
Click

Create New Journey

in the Journey Builder
Click

Build

to create a Multi-Step Journey in the Journey Builder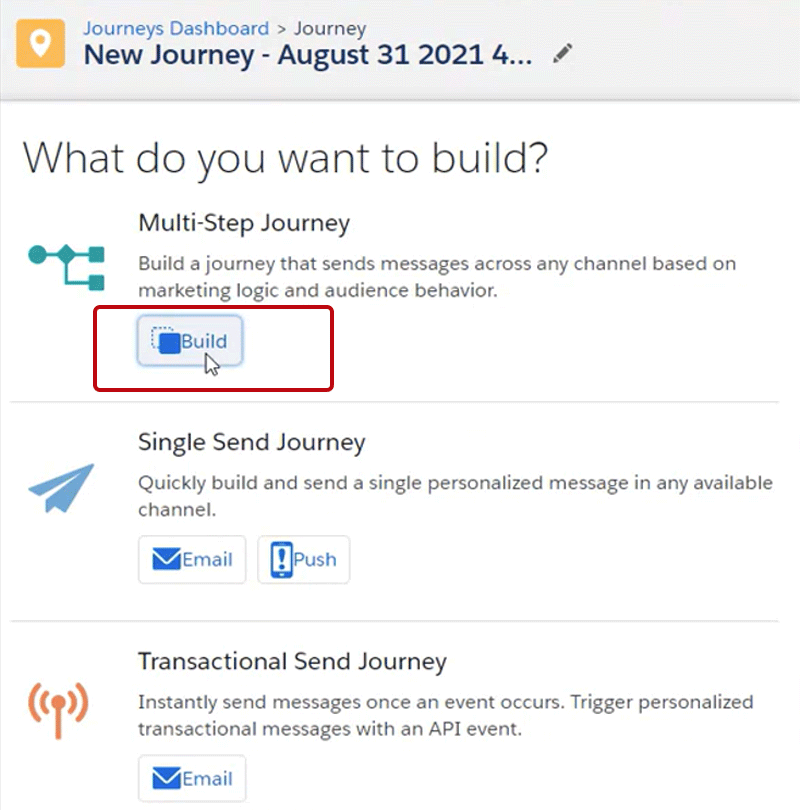 Find the

360 SMS App

activity in the new journey sidebar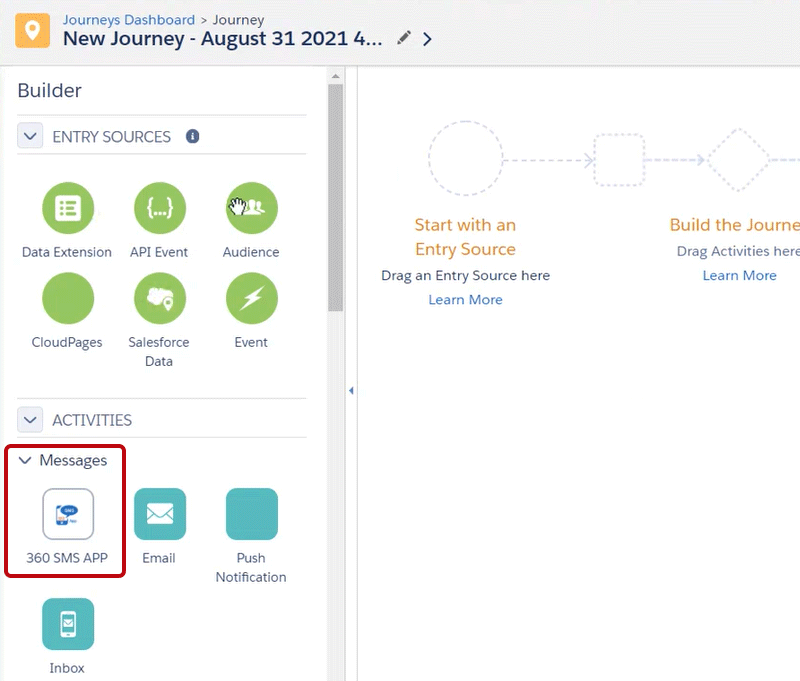 Drag and drop any data source from which you'd like to send messages using Data Extension
Select the data source to choose and upload records of the recipients to whom you want to send messages
The data source should now be populated by records shown in the sidebar summary
How to Compose a Message 
Simply Drag-and-drop the custom 360 SMS App
Choose sender phone numbers in Salesforce and recipient numbers from the data source.
Or just compose new messages on the fly when configuring the activity. 

Take your Marketing Pursuits To the Next Level With Actionable Data and Easy-to-Compose Messages
With changing scenarios, you need to upgrade yourself and your businesses too. The 360 SMS Marketing Cloud add-on allows users to eliminate marketing bottlenecks, dependency on developers, Tasks in journey builder, and high messaging expenses.
As a result, users can schedule and send messages much faster with drag-and-drop features and create multi-step journeys conveniently. With this connector, users can make the best of their Marketing Cloud data, repurposing them for mobile campaigns and also take their marketing operation to the next level using actionable data from MC and Salesforce.
To know more in detail about this Marketing Cloud Add-on, turn to our experts at care@360smsapp.com or contact us here.