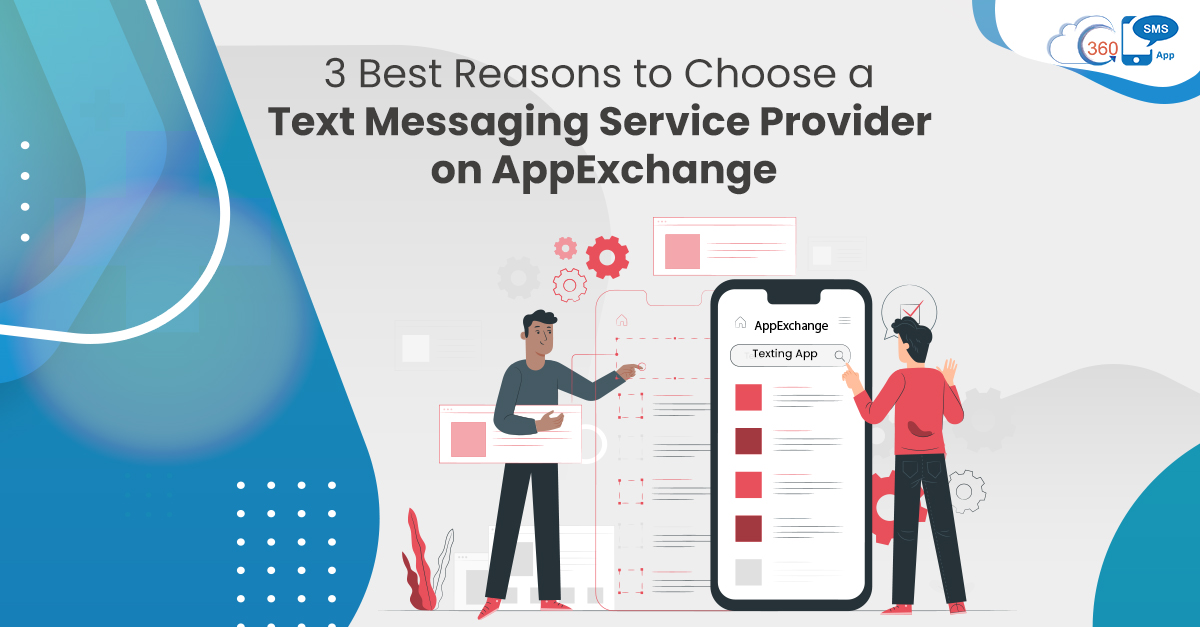 3 Best Reasons to Choose a Text Messaging Service Provider on AppExchange 
Salesforce not only helps build and nurture relationships but allows businesses to sell, serve and market their business offerings. With all the data stored in your Salesforce instance, organizations can interact with customers across various stages of a customer's journey, generate more leads, and increase sales. But the more equipped you are, the better it will be to meet the dynamic needs of users. This is where AppExchange apps shine. So, by choosing an SMS service provider on AppExchange,  you can extend your CRM capabilities and improve your business operations.
What is AppExchange?
AppExchange is a Salesforce marketplace for online apps and components. With these ready-to-install solutions, you can extend your Salesforce CRM by installing apps for a specific role, department, or industry.
So, while Salesforce doesn't provide any in-built functionality for messages, texting solutions like the 360 SMS app on AppExchange can help you send and receive text messages in Salesforce. In addition to extending Salesforce CRM, here are some benefits of choosing an SMS service provider on AppExchange that are worth mentioning.
Why choose SMS Service Provider on AppExchange
Managed Packages for Up-to-Date Apps
Due to thousands of app on AppExchange, people often lack in finding the best app on AppExchange. So they can check the latest release date to find out how frequently vendors upgrade an app. Whether you're looking for a bulk SMS apps on AppExchange or ant other, apps that come in managed packages are built by Salesforce ISV partners.
The best part of choosing an SMS service provider on AppExchange is most of the apps come in managed packages and they are managed by their vendors and are fully upgradable. As a result, organizations don't need to keep track of the latest upgrades, which will be taken care of by vendors. The organizations installing the package can get these apps customized if they want them tailored for specific use-cases.
SMS Service Provider on AppExchange Offers Pre-Built Building Blocks
Any app built from scratch needs extensive research, planning, time, effort, and resource investment. But that's not the case with bulk text message apps on AppExchange. AppExchange apps are generally comprehensive, mature products, especially the ones meant for business communication save much of the developer's time. 
As text marketing apps on AppExchange go, 360 SMS is the top-rated SMS app. Organizations can simply download and start using it in under 10 minutes. It works out-of-the-box, is a secured and tested Salesforce-native texting solution, and comes loaded with numerous out-of-the-box capabilities.
Cost-Effective Solution
AppExchange apps are more effective compared to any app built from scratch and managed by the owner. This is because you, as a business, don't incur development and maintenance overhead. These apps are improved and managed by known vendors, and this is a huge cost-savvy aspect of these apps. In monetary terms, the usage and installation of AppExchange apps is a one-time affair but can create better returns in the long run.
Batch Texting in 360 SMS for your business
A calculated technology can minimize your investment and maximize your returns. 
So, instead of reinventing the wheel or looking for standalone apps for a bulk SMS, it's more profitable to get an app on AppExchange that helps with scalable texting, automation, time-savvy messaging operations and supports user adoption. And 360 SMS is a one-stop solution that brings all desired capabilities to you. Also, it lets you mold it the way you want for your processes through custom solutions. In addition to this, it also provides DIY-configurable automation to reduce dependency on manual operations. To know more about this app, explore https://360smsapp.com/ or contact us here.