Setup Chatbot/ Intelligent Texting (iText) and See Things Happening in Auto Mode.
Automate interactions and save time for high-value priority tasks.
Before we begin, it's important to understand what is achieved with the solution we provide rather than how they've achieved it. So, here's what you need to look at.
Some Interesting Results
Based on interactions and interviews with our clients who configured and used DIY chatbots/Surveys/Questionnaires/Polls for their business operations have reported:

Business investment is reduced by 31.8% because of self-sufficiency to create chatbots.

Overall business productivity increases by 43.4% for our clients because now they can make more informed decisions based on the collected data.

Customer acquisition rate increases by 27.4% due to chatbots and improved support services.
You and your teams might have to invest a lot of time, money, and resources to collect data at scale for making informed decisions.
Generally, whenever you run a Survey, Questionnaire, or Chatbot, you have to invest separately for each Survey that gets created. This can put a strain on your pocket. And the worst part is you need trained resources to get the job done up to scratch in one go. Else the entire process can become more time-consuming than usual.
Besides, you might have observed that customers text at their own time and expect a quick response to cut back on long chat sessions. But if agents are unavailable and don't respond immediately, the customer might get busy at work. This adversely impacts customer experiences.
So, itext helps you get around with such issues. With DIY conversation trees (iText), you can trigger an automated response immediately in the event of an incoming text and take conversations ahead. This way, customers don't have to wait for minutes, hours, or days for a response.
The best part of using itext is it saves your agent's time. And for any business, time is money. Usually, you and your teams respond to each text to qualify inquiries and leads, but not with iText. You can automate interactions for qualifying inquiries and leads and cut back on manual conversations.
If you and your teams are self-dependent to set up a Chatbot, Survey, or Questionnaire, it could add great ease to you and your teams and help to cut back on business investments.
So, to help our customers collect data at scale conveniently, we allow them to create chatbots, surveys, and questionnaires on their own and eliminate their dependency on experts.
How to set up Chatbots/Surveys/Questionnaires and Put Interactions on Auto mode
Setting up chatbots is a Do-It-Yourself (DIY) process that's easy to do even without any technical knowledge.
And even if you're unable to do it yourself, our dedicated managers are always there to help you at every step.
Click iText (as shown below).
When you click iText, you can also see the list of all previously created Surveys and delete them by clicking on the Delete Survey button placed against each Survey.

Click Create New Survey on the top right corner of the page. (as shown below).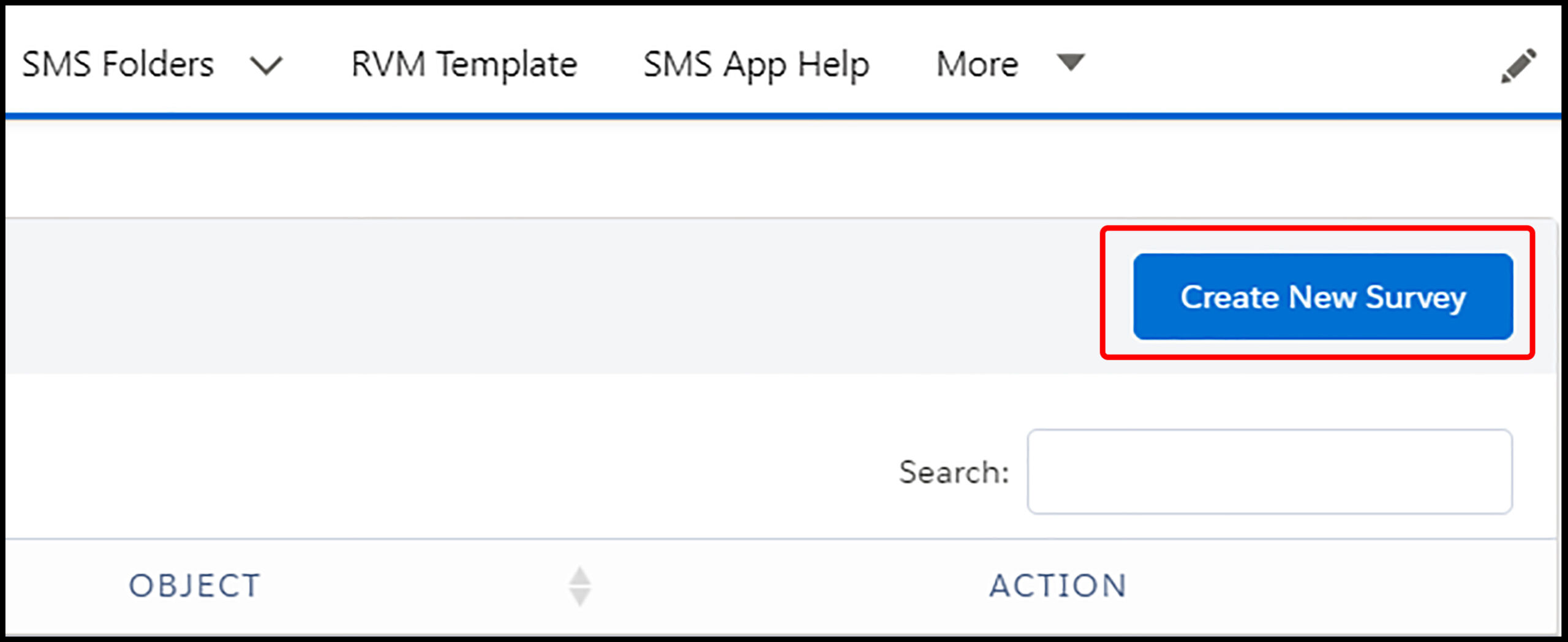 When you click Create New Survey, a Create Survey dialog box will come up (as shown below) where you need to enter values for the requested fields.
The fields requested are described below.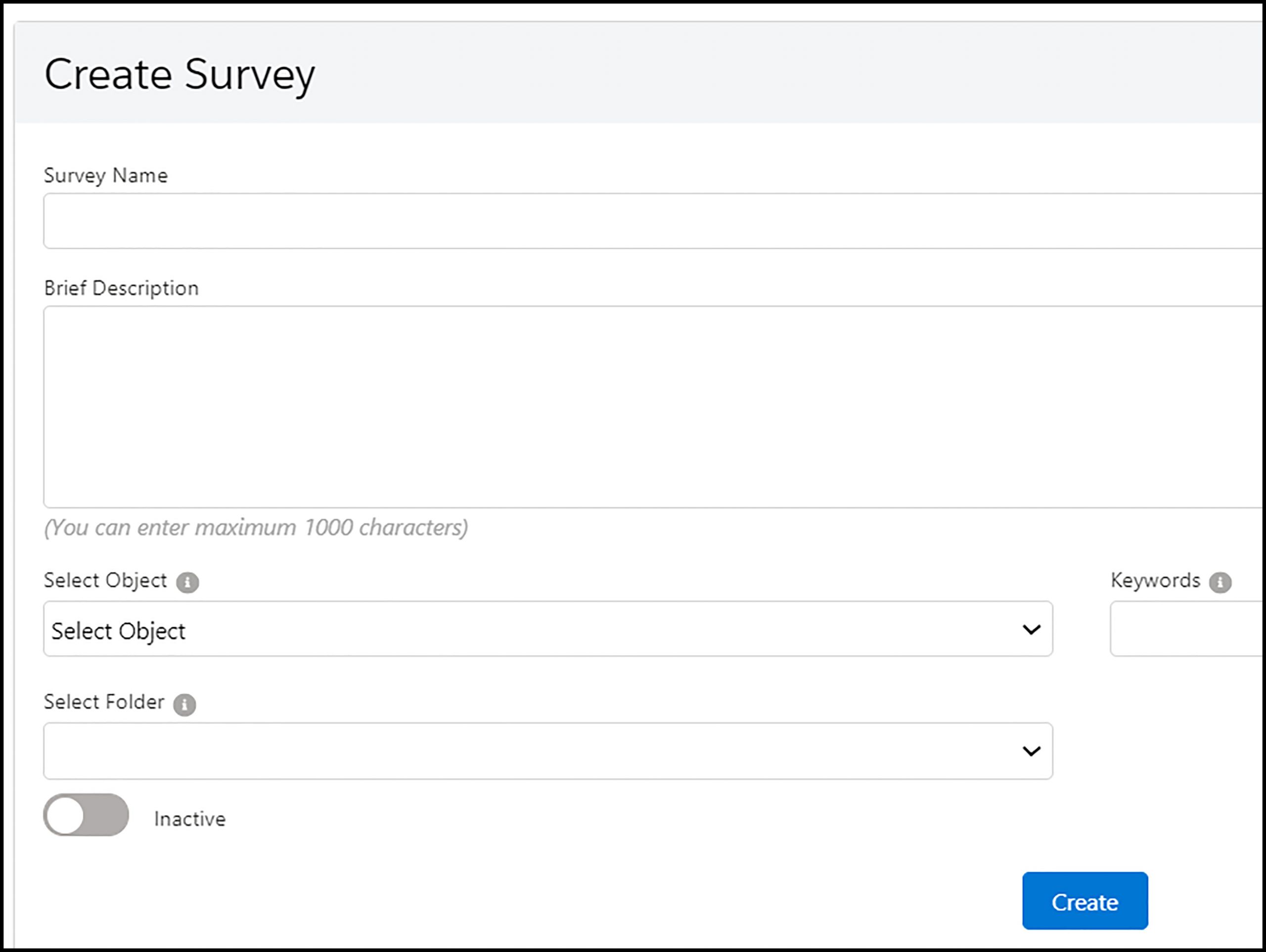 Survey Name- Add the name of the Survey.

Brief Description- Add a brief description of a Survey. This may include the purpose of creating a Survey or a scenario when a Survey should be triggered.

Select Object- Select the Salesforce object for which you want to create a Survey.

Keywords- Add keywords and synonyms (comma separated). These keywords will help to trigger a Survey automatically in the event of an incoming text with any of the specified keywords.

Select Folder- Select the folder from which you want to pick a Survey (if Surveys are arranged in a folder)

Status- Toggles the status between Active or Inactive for a Survey.
After filling in all the details, click Create.
When you click Create, a Survey will be created. Now, you can add questions by clicking +Question, as shown below.

When you click +Question, a Create/Edit Question dialog box will appear (as shown below) where you can add a new question with other details to a questionnaire.
On this page, you need to enter values for the requested fields.

Question Name Add the name or label of the question. For example – "Question 1."

Select Fields – Select 'Merge Fields' if you want to add any

Question Text – Add the first question that you want in a Questionnaire

Attachment – Add attachments to a message if you want to.
After filling in all the details, click Create, and this will add a question to a Survey or Questionnaire.
After clicking the Create button, you can see the added question in the Survey. An example is shown below.
Now, you can add expected answers or answer choices for the added question by clicking the +Answer button placed against each question, as shown below.
For adding every new answer choice to a question, you need to click the +Answer button placed against each question.
When you click on the +Answer button, a box should appear (as shown below).
It is HERE that you can add an answer to the question.
You can also add acceptable synonyms separated by a double pipe ('||') to each answer.
At last, click Create after entering each answer choice.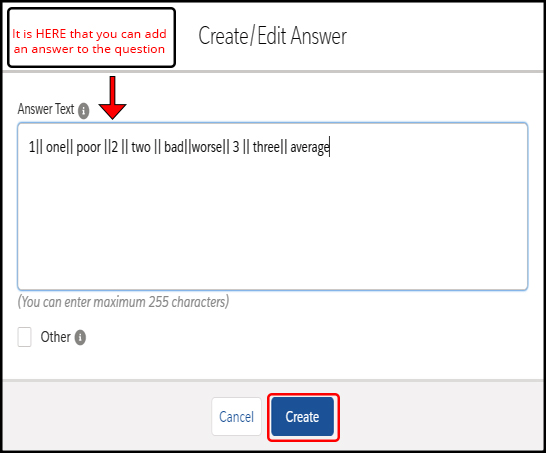 After adding answer choices, you can see all of them right below the question (as shown below)
You can trigger a sequence of further nested questions and answers for each answer choice. So, for each type of answer received, a different sequence of questions may be triggered next.
You can sequence these questions and answers one after the other.
To do so, you need to click on the +Question button placed against each response, as shown below.
Also, you can edit or delete an answer using the 'pen' or 'bin' icons.

Also, if you do not want to add a new question or want to skip a few questions and want to jump to a specific existing question in the event of a particular incoming response, you can use the None tab (as shown below) and choose a question from the dropdown.
The question that will be triggered in the case of a particular response can be viewed right under the specific answer choice, as shown below.
This way, you can keep adding a series of questions and answers in a Survey.
The best part of using iText is, you can take or assign actions side by side that you want to perform based on the answers received without navigating to the record page separately.
Taking Actions Depending on the Answers Received or iText Response
Answer Path is a part of iText that allows you to take action based on incoming answers to Surveys or iText. This way, you can easily free up your data based on each itext response by updating Salesforce records simultaneously.
You can perform or assign actions like

Sending an SMS alert to the record owner

Sending an email to a record or record owner

Creating a task that needs to be performed next

Adding recipients to ongoing campaigns

Updating the field value of the selected Salesforce object

Jumping from an existing Survey to another Survey
To perform actions in the event of an incoming response, click on the three dots icon placed against each answer (as shown below). Further, you can perform the desired action by choosing it from the given list.


Turned out to be perfect!
Great experience! My major use case was to set up automated messages. The configuration is so smooth. Thanks to the iText functionality.

HIMANSHU HUSKE
Verified Review, Excerpted from AppExchange
Wrapping Up
Self-sufficiency to create chatbots or Surveys or Questionnaires allows you to make more informed decisions at every turn. Without being dependent on experts and worrying about investments, you can create a new Survey for every use case and capture unique data for different purposes.