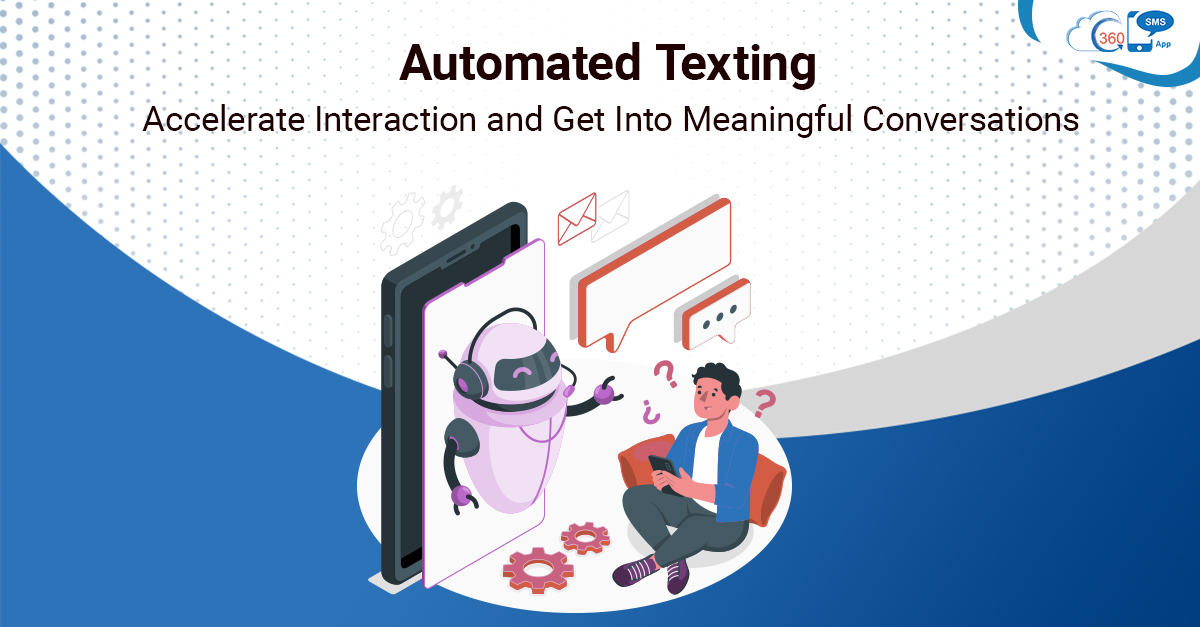 Automated Texting: Accelerate Interaction and Get Into Meaningful Conversations
Time consumption matters the most in any business as Time is money for them. So every business focus on saving more time by speeding up processes. With faster and time-saving business processes, employees can be more efficient and focus on other core priority areas of a business. Thus, automation provides the best way to perform business operations at a much faster rate. Also, employees can perform multiple tasks simultaneously with the help of automation capabilities. Automated texting is a vital instance of automation in the business. Text automation paves several ways for firms to redefine their communication processes and customer experiences.
How does Automated Texting Help Transform Business Communications
Multiple Simultaneous Conversations
A single routine for communication isn't enough to fill the lead pipeline faster. This is because employees can reach and communicate with a limited number of prospects without automation. But with the help of automated texting, agents can get into multiple conversations. 
On the one hand, they can automate Salesforce text messages for interactions. On the other hand, they can get into one-on-one conversation through chat and call. This would help to attract leads from various directions using different conversation routines.
Automated Texting Supports Cost-effective Data Capturing
It is not easy to capture data at scale faster with traditional methods. This is where automated texting can help run Surveys, Questionnaires, etc., to capture data at scale faster. The best part is, 360 SMS provides a cost-effective method to run as many Surveys as users want. 
Its no-code automation capability allows users to configure Surveys without any developer's help. With automated texting, users can easily accommodate various use-cases. They can automate the lead or inquiry qualification process, capture audience requirements, understand their preferences, etc., to make informed decisions and create targeted SMS campaigns.
Meaningful Interactions at the Right Time
Sending messages at the right time or when a person needs it the most adds more meaning to any conversation. Message scheduling is also a way to automate text messages and send them at the preferred date and time. 
To automate texting and reduce manual intervention while sending each SMS, users can schedule time-sensitive messages in advance, deciding whether they want texts to go out weekly, monthly, bi-annually, or annually. Besides, users can configure SMS drip campaigns for various purposes like following up with unresponsive leads, onboarding students, marketing, and cutting back on time investment.
Better Support Services
One crucial instance of automated texting is Chatbots. Just as Surveys, users can configure a series of most common and frequently asked questions. Further, they can assign a relevant response to trigger in the event of an incoming response with the desired keyword. This way, users can design chatbots on their own for different use-cases and render 24* 7 support to their prospects and customers. 
Reduce manual Involvement and Redefine Interactions 
Automated texting opens floodgates of opportunities to make interactions self-driven. This frees up a lot of time for employees as they can effortlessly reduce their involvement in text operations and prioritize other high-value tasks like prospecting. More importantly, organizations can accelerate their interaction processes, assist their customers at the right time, get into meaningful conversations and improve their overall experience with their brand.
To know more about how you can use no-code and standard automation for your vertical, get in touch with our experts at info@360smsapp.com or contact us here.