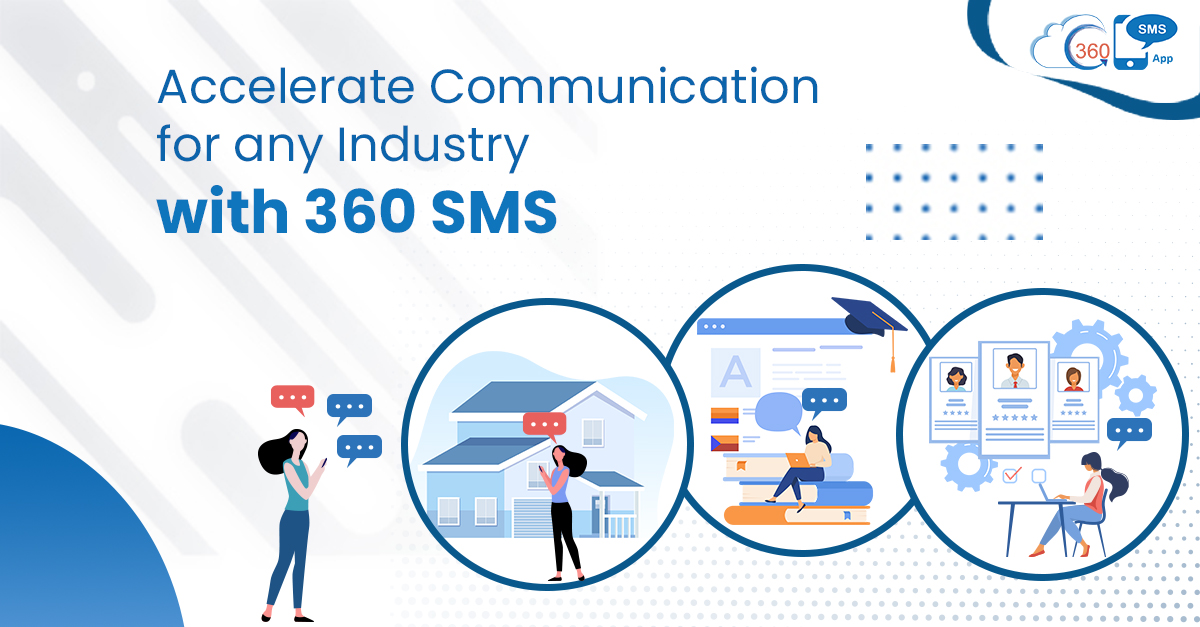 Accelerate Communication for any Industry with 360 SMS
Text for industries have become the most crucial and popular business channel to communicate with audiences faster. The best part is, SMS has made it feasible for businesses to reach out to prospects and customers at scale without draining much time. Whether a person is at home or the workplace, organizations can connect with them right on their hand-held devices with texts. 
360 SMS is a Salesforce-native texting app that works out of the box and lets you achieve numerous communication objectives effortlessly.
Let's check out what users can do with advanced texting capabilities to grow their business.
Improve Engagement through Automated Text for industries
The very step to capture audience attention is to engage more with prospects and do not let them forget about your brand. 360 SMS has DIY-configurable automation, which you could use to automate interactions and engage with audiences at various turns. Using SMS drip campaigns, you can schedule texts at various intervals and run campaigns for promotions, advertisement, re-engagement with closed or lost leads, and much more. Besides, with the 360 SMS app for Salesforce, one can trigger SMS to elicit instant responses and engage immediately in the event of incoming leads or whenever there's any change in leads status. This way, you can use text for industries irrespective of its vertical.
Improve Global Outreach
360 SMS is no less than a bulk SMS app on AppExchange that enriches you with advanced texting capabilities that allow you to scale communications and improve global outreach.
On the one hand, you can use bulk messaging from reports to connect with millions at scale. On the other hand, you can use WhatsApp messaging to break country-to-country texting barriers and reach out to international audiences.
Further, 360 SMS provides you six pre-integrated channels for communications, which helps to connect with audiences over their preferred channel. Thus, with this bulk text message app on AppExchange, you can target audiences on multiple platforms and improve business outreach.
Qualify Leads Faster
Transferring unqualified leads to the sales team only waste their time and effort. 360 SMS DIY-configurable conversation trees (called iText) lets you qualify leads through an automated texting process. You can design a series of questions and answers to automate the lead qualification and profiling process.
This way, you can get qualified leads on which your sales team can work to convert them and close more deals. Further, you can use automated texts to probe into customer's likes and dislikes to understand them and win more deals.
Run Surveys without Expert Help
Surveys help organizations to gauge an individual's opinions and experiences and find room for improvement. 360 SMS lets you design a series of questions and answers and trigger the next question based on keyword response to run Surveys without expert help.
Organizations can perform sentiment analysis on a scale of 0-10 and analyze the cause of the customer's dissatisfaction. This could help organizations to find low-value areas and improve them.
Reduce Navigation to Enhance Customer Experience 
Too much navigation while reaching the desired page can irate customers.
Thus, you can use the 360 SMS Link Tracking feature to send auto shortened links using text for industries and reduce navigation. To enhance the customer's experience, you can send payment or donation links and enable customers and donors to pay and donate conveniently.
Also, you can use links to take the customer's approval. This way, when customers approve payments, you can deduct money from their account. Further, with the Link tracking feature, you also get engagement analytics which allows you to track the clickthrough rate for each link sent and when the first and last click was made.
Achieve Industry-Agnostic Communication Goals Faster with 360 SMS
360 SMS is a no-code text marketing app on AppExchange loaded with advanced texting features and allows organizations to perform much more beyond texting. With this quick and user-friendly app, users can achieve their industry-agnostic communication objectives conveniently without investing much time and effort. Whether the communication objective is an advertisement, promotion, customer's knowledge enhancement, sales improvement, or any other, 360 SMS is equipped to cater to all your business needs and lets you achieve goals faster. 
To know more on how to make the best out of text messages for your industry, reach out to us at  info@360smsapp.com or contact us here.