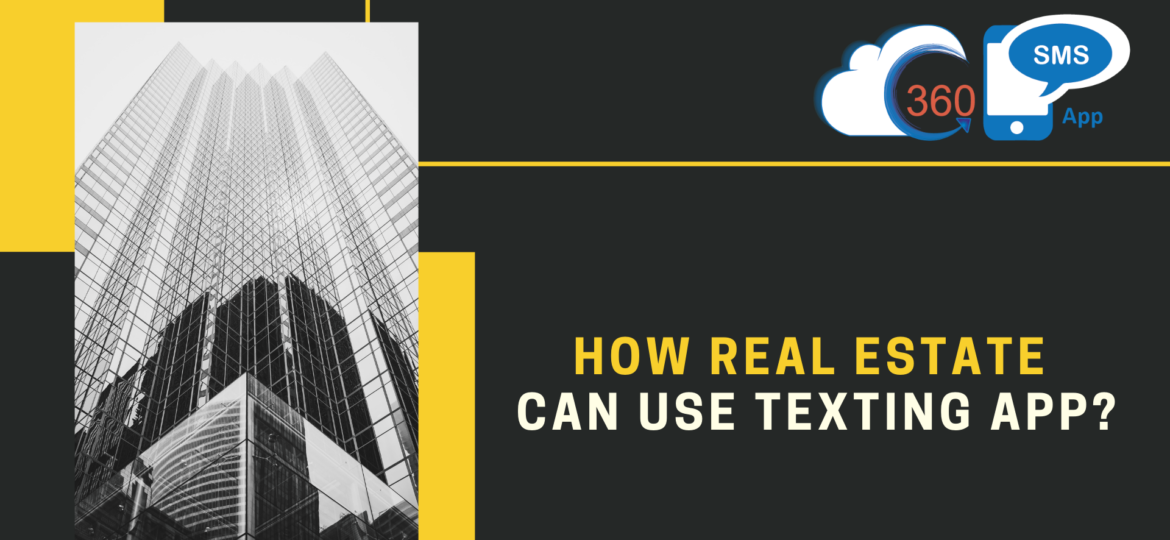 Here's How Real Estate Can Use Texting App
Text Marketing has left no stones unturned when it comes to achieving success in the different sectors of industry. Industries have started to shift their focus from other methods of marketing to texting campaigns. The reason is obvious- text messages have comparatively much higher opening rates than emails or any other marketing methods. People tend to prefer SMS and trust this mode of communication more. SMS has been gaining grounds since its inception and there is no further doubt on the same that why is this happening. Industries like those of Healthcare, Hospitality, Media, Real Estates, etc. are watching their business grow like never before with the help of 360 SMS App.
Imagine how an individual owning the business of Real Estates can use this app and make the most out of it. Here is an example of how texting can do wonders in this sector. Have a look:
In our previous week's edition, we talked about how the Hospitality sector can use a texting app. So now in this week's edition, we will be talking about how the Real Estate industry can make the most use of the app. So as in the video above, you already saw how a prospect (here Amanda) chose to connect with the property owner and closes on her dream property in no time. Imagine the presence of a broker in between this process of buying a property, it could have easily taken a lot more time and your few more bucks.
Have you ever bought a property as easy as Amanda? We know that the process of buying a property is not as easy as it seems to be. But with the help of an SMS app, this hectic task can be done just in a few seconds without wasting much of your time at related websites or even roaming in the scorching heat to get the right deal. Texting can land you with better solutions than you ever imagined. So opting for text messages as your communication medium is always a win-win situation for your business. It can also be stated how texting can ease the life of people. Texting is one of the newest trends to follow in the market if you wish to drive better lead engagement and reach out to the maximum number of people at a time.
Similarly, we here at 360 SMS App leave no chance to make your lives easier by providing you with the best facilities that can take your business to the next level. It can save time as well as money simultaneously. Apart from providing you with the basic features of single and bulk texting, 360 SMS App provides you with the most exceptional features including Surveys, Templates, etc. Still wondering? Connect with your team now and get started. Book a free demo for yourself today and see how SMS can do wonders for your business!