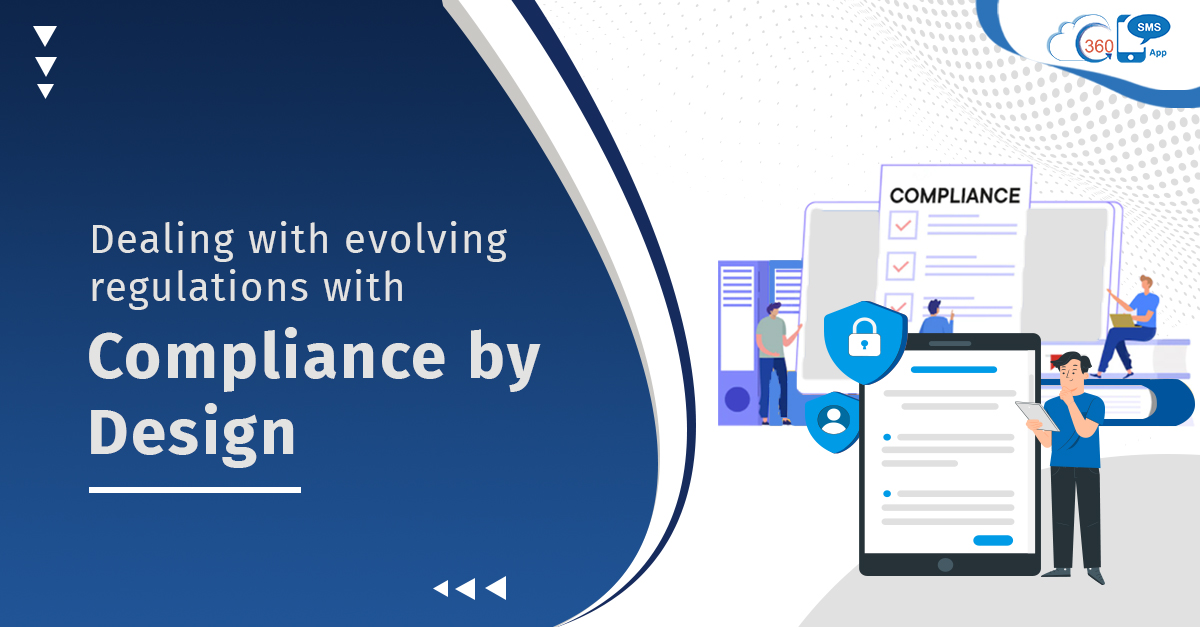 Dealing with Evolving Regulations with Compliance by Design 
Without a doubt, texting has provided an ease of communication at scale. With SMS, marketers can easily educate, advertise, and promote their business offerings at scale and maximize returns. But texting without adhering to texting rules and regulations can adversely affect business returns. This is because incompliant texting can lead to massive fines and financial penalties. Thus, it becomes a critical business priority to adhere to every texting law and rule to stay compliant while texting and eliminate the risk of penalties and lawsuits. This is where users can count on an app that is compliant by design.
What is Compliant Texting?
Regulatory bodies like GDPR, TCPA, and CCPA regulate telemarketing calls and text messages to protect the interest of consumers. Thus, there are several texting and carrier codes of conduct to protect customers' privacy and personal information, which business firms must adhere to stay compliant while messaging. 
So, compliant texting is all about sending text messages under texting guidelines specified by the regulatory bodies. Being compliant with texting laws, users can prevent their messages from being marked as spam by carriers and customers and reduce opt-outs due to unwanted and irrelevant messages.
What if New Texting Regulations Evolve? How to Deal with Evolving Regulations?
With changing scenarios, texting regulations may change. Thus, business firms need to have a texting solution in place that is compliant with design. This will help users to handle texting compliance the way they want without any need for additional solutions whenever a new texting regulation evolves.
What is Compliance by Design and How does it Help?
A compliant by design solution is designed keeping in view the customer's privacy above everything. It comprises a privacy-first architecture that lets users manage opt-ins and opt-outs the way a customer wants.
More importantly, a texting solution that is compliant by design is future-ready to deal with any kind of evolving regulations by adding custom fields. This way, users can easily reap the benefits of compliant texting.
360 SMS App: An App that is Compliant by design 
Every new texting regulation or change in texting laws can be the worst business nightmare to handle, but not with the 360 SMS app. The app comes with a privacy-first architecture that allows users to keep the customer's privacy at the center of everything and help with selective opt-ins and opt-outs. Users can opt-in or opt-out customers by specific language, department, person, phone number, type of content, etc., and send Salesforce messages compliantly.
Further, the app provides with exception opt-in template to increase opt-ins staying compliant. Whenever required, users can ask for a double opt-in before starting texting.
More importantly, users can define opt-in and opt-out categories to cater to any evolving messaging regulations. 
Besides, users can manage opt-out right from the incoming alert window and even opt-out automatically based on the intent. For example, if someone texts- Don't text me.
Prep Yourself for Future Compliances with Compliant Design
A messaging solution that is compliant by design empowers users to handle any type of texting regulations on the way. A compliant solution preps users with a future-ready compliance mechanism. Thus, users can handle compliances without much effort and complex processes. New texting regulations generally require new compliance management tools, which urges time and investment. But, with a compliant solution design, users can reduce repetitive investments and meet unique compliance requirements with just one solution. 
To know more about how 360 SMS helps you stay compliant while sending messages, turn to our experts at care@360smsapp.com or contact us here.